3 Developing Stories Auto Investors Are Watching Closely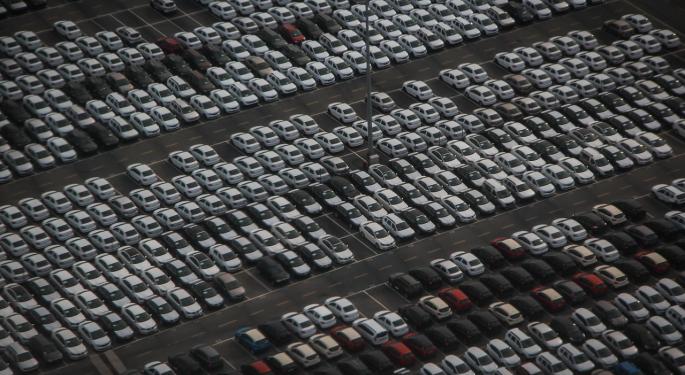 There have been a lot of potentially market-moving developments in the auto industry lately. Here's a rundown of three particular developments have captured the attention of auto investors.
China
The Chinese stock market has been all over the place lately, and there have been mixed reports on the underlying strength and stability of the Chinese economy. Shares of General Motors Company (NYSE: GM) surged last Thursday when the company produced a Q2 earnings beat. However, CFO Chuck Stevens reaffirmed the company's commitment to investing $14 billion in new vehicles and facilities in China over the next several years.
Related Link: Turboed And Revving, Kelley Blue Book Projects July Auto Sales To Zoom
According to Jack Nerad, executive editorial director for Kelley Blue Book's KBB.com, the long-term opportunity that China presents should outweigh near-term concerns about the Chinese market. "Even in a downturn, China still represents a giant opportunity," Nerad told Benzinga, adding that GM is well positioned for success in the emerging market.
Safety
Over the weekend, Fiat Chrysler Automobiles NV (NYSE: FCAU) was slapped with a record $105 million in fines associated with its mismanagement of safety recalls. The latest crackdown by the National Highway Traffic Safety Administration is just the most recent example of a seemingly endless stream of safety recalls, fines and investigations in the auto industry.
Nerad believes that the recent number of safety-related headlines is more a product of increased regulatory scrutiny than manufacturing sloppiness. "It's not so much that car companies are cutting corners – indeed there is little evidence for that – but more that vehicles today are incredibly complicated machines with a wide variety of electronic and mechanical systems that must perform flawlessly," he added.
Unfortunately, as the modern automobile becomes increasingly more technologically advanced, the likelihood of malfunction increases as well.
Related Link: Barclays Downgrades Auto Sector To Negative, But Reiterates Bull Thesis On Mobileye
U.S. Sales At 10-Year High
Despite the worrying headlines about China weakness and safety concerns, the U.S. auto industry is off to a roaring start so far this year. Although share price performance has been mixed, Kelley Blue Book recently reported that 2015's first-half sales volume is the highest that the industry has seen in a decade.
Nerad provided one surprising explanation for the high U.S. sales volume that many investors may be overlooking. "Money is cheap, so manufacturers can offer very compelling lease deals and special financing offers. When you can get a brand new car for $149/month, some people will jump at the chance."
Nerad added that it will be interesting to see how auto sales react to the Federal Reserve's first interest rate hike.
For now, auto investors will turn their attention to Ford Motor Company (NYSE: F)'s Q2 earnings report and analysis, scheduled for Tuesday morning before the market opens.
Image Credit: Public Domain
Posted-In: ChinaAnalyst Color Emerging Markets Travel Exclusives Markets Analyst Ratings Interview Best of Benzinga
View Comments and Join the Discussion!