Did McDonald's, Caterpillar & Amazon Lose Sizzle To Strong Dollar?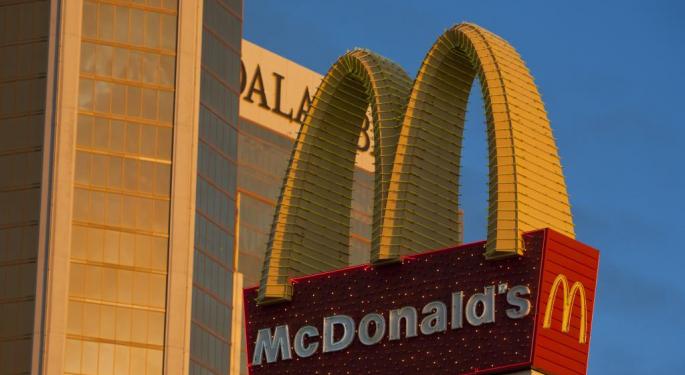 McDonald's Corporation (NYSE: MCD), in the throes of a turnaround with a new chief executive, new products, and stronger marketing, warned investors in the last quarter that the first half of this year would be a difficult one.
For investors, the impact of reinvention, hobbled by a strong dollar's dent on global profits, are likely to continue to drive share activity. That's true for McDonald's, Amazon.com, Inc. (NASDAQ: AMZN), Caterpillar (NYSE: CAT), and several big names due up with their latest quarterly results.
Check out all earnings updates with TD Ameritrade...
Not So Golden Abroad?
Facing tough and growing competition in the fast-food and fast-casual restaurant segments, the world's most ubiquitous hamburger maker has reported sluggish global same-store sales results for 13 straight months. Its June sales at stores open longer than a year, considered a key metric of health, are expected to be in the red again and will be the last of the monthly measure reports. Chief Executive Steve Easterbrook is putting an end to them.
When McDonald's reports earnings ahead of the market's opening on Thursday, analysts reporting to Thomson Reuters are expecting, on average, a per-share profit of $1.23, down from $1.40 a share a year ago. Revenue, too, is forecast to fall 10% to $6.45 billion, its fourth consecutive quarter of decline. The strong dollar will slam results for this multinational behemoth, whose golden arches are staked in more than 100 countries.
In the quarter, the company has continued to face challenges from food scandals in China and Japan, announced that it will up hourly wages for employees at its corporate-owned stores as well as shutter 700 stores—the first time it has contracted store count since at least 1970, according to the AP.
Analysts also will be anxious to hear about plans to offer breakfast items all day—an entreaty consumers have long sought. Tests in San Diego and Nashville that began earlier this year have proved promising, the Wall Street Journal reported Tuesday. All-day breakfast could begin nationwide as soon as October.
Will Street Be Kind To Amazon?
Amazon, which is set to report after the bell on Thursday, has been the apple of many an investor's eye, thanks to shares that have rocketed more than 70 percent since January alone.
Two upgrades on Monday kept the rally alive until a down day on Tuesday, when the stock closed at $488. On Jan. 15, it closed at a 52-week low of $286.95.
Analysts, on average, are projecting a net loss of $0.14 per share on $22.37 billion in revenue, hit too by currency impacts. A year ago, the e-commerce retailer reported a per-share loss of $0.27 and $19.34 billion in revenue. They will be looking for another quarter of strong results across the North American and Amazon web business, powered by high demand in electronics and general merchandise, its largest category.
The stock is a bit of an enigma considering the losses and its debt load, even as analysts are declaring that Amazon, which has disrupted more than one consumer-product category, will outsell Macy's by 2017, according to Cowen & Co. report this week. The firm is betting that Amazon will ring up $27.77 billion worth of fashion and apparel that will catapult it to the No. 1 clothes peddler in the U.S. by then.
As for its much-ballyhooed Prime Day earlier this month, there won't be any results to see because that sale was held in the third quarter.
They've Got Spieth
Under Armour Inc (NYSE: UA) shares also have been on a tear, thanks to a slew of new and innovative products and an intense popularity buoyed by celebrity sanctions from the likes of Gisele and Tom Brady to Jordan Spieth, Stephen Curry and Misty Copeland. Spieth and Curry both nabbed valuable titles last month, within five days of each other no less—the U.S. Open and the NBA championship, respectively—against two leviathan Nike promoters, Rory McIlroy and LeBron James.
That gave the company and its investors a championship swagger that, along with hot-selling products like the UA Curry One signature sneakers, helped jump shares better than 45 percent in the last year.
Analysts will be looking for earnings of $0.05 a share on revenue of $761.55 million, on average when the results are released before the bell Thursday. That represents a 25 percent jump in sales, its fourth straight quarter of 20 percent sales and above.
The maker of athletic gear "engineered to keep athletes cool, dry and light," like many multinational companies, already has warned that foreign currency will be dilutive, as will the acquisitions of Endomondo and MyFitnessPal.
Pipeline Checks
Also on the docket to release earnings ahead of Thursday's trading day are Bristol-Myers Squibb Co (NYSE: BMY) and Eli Lilly And Co (NYSE: LLY). Analysts are forecasting per-share earnings of $0.35 on revenue of $3.68 billion for Bristol-Myers, which has promising new drugs in the cardiovascular, oncology and infectious diseases segments amid strong dollar impacts.
Eli Lilly, which has been riding high this year on promising new diabetes drugs Trulicity and Jardiance, and Cyramza, a new cancer drug, has seen its shares advance 33% in the last year. A downgrade by Morgan Stanley a week ago shaved a couple percentage points off the shares.
Earnings are forecast to come in at $0.73 a share on revenue of $4.89 billion, down 1 percent from year-ago results. The company has outpaced expectations in three of the last four quarters, but its topline will be under pressure and it will get hit with currency translations.
Strong Dollar's Claws Hurt
Caterpillar also will report results ahead of the market with expectations of a per-share profit of $1.27 on revenue of $12.73 billion. That's below the year-ago earnings of $1.69 on revenue of $14.15 billion.
The first quarter results were ahead of projections but the company is struggling amid the slumping mining and energy industry. In the last quarter, Chief Executive Doug Oberhelman warned investors then that earnings would not be as robust for the rest of the year and it, too, will be a currency casualty.
AT&T Inc. (NYSE: T), the nation's second-largest telecom, will report earnings after the market closes Thursday and analysts are forecasting a profit of 63 cents a share on revenue of $33.1 billion for the quarter. On the conference call, analysts will be listening for an update on its proposed merger with DirecTV.
This piece was originally posted here by JJ Kinahan on July 22, 2015.
TD Ameritrade, Inc., member FINRA/SIPC. Commentary provided for educational purposes only. Past performance of a security, strategy, or index is no guarantee of future results or investment success. Inclusion of specific security names in this commentary does not constitute a recommendation from TD Ameritrade to buy, sell, or hold.
Options involve risks and are not suitable for all investors. Please read Characteristics and Risks of Standardized Options before investing. Supporting documentation for any claims, comparison, statistics, or other technical data will be supplied upon request.
The information is not intended to be investment advice and is for illustrative purposes only. Be sure to understand all risks involved with each strategy, including commission costs, before attempting to place any trade. Clients must consider all relevant risk factors, including their own personal financial situations, before trading.
Posted-In: Analyst Color Earnings Previews Trading Ideas Best of Benzinga
View Comments and Join the Discussion!