Mohamed El-Erian: 'Technical Contagion' Is A Concern If Greece Leaves Eurozone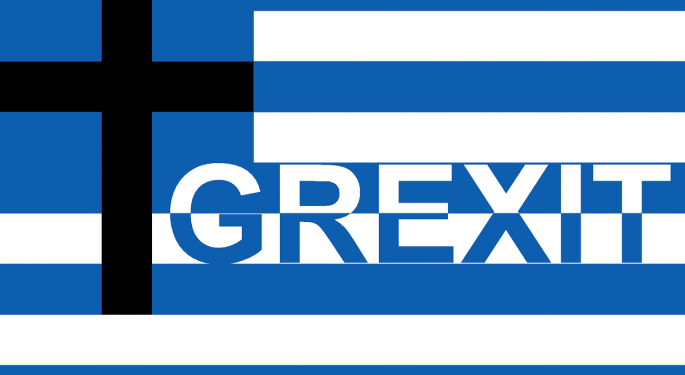 The results of Greek referendum have sent the global financial markets on a downward spiral over fears that Greece will soon exit the eurozone.
Mohamed El-Erian, chief economic adviser at Allianz SE (ADR) (OTC: AZSEY) and former PIMCO CEO, was on CNBC Monday to discuss the probability of a Grexit and the collapse it can lead to.
High Probability Of A Grexit
"On the ground, this economy in Greece is grinding to a halt," El-Erian said. "And it's going to be very difficult to restart it without the government being forced to introduce IOUs, without the government having to do some sort of financial engineering.
"And, therefore, the political process is going to find it difficult to resist what's happening on the ground, and that's why I am really concerned that we may be on the path to a high probability of a Grexit."
Related Link: Citi: Fear A Grexit, But Prepare For "Grimbo"
Worried About Technical Contagion
El-Erian was asked if Greece exiting the eurozone will lead to other debt-ridden countries following suit. He replied, "So, clearly there are risks, and these risks are going to fuel the emergence of non-traditional parties in Europe, particularly in Spain.
"The eurozone controls its destiny. The eurozone has instruments to limit contagion. They haven't been deployed yet, but they have those instruments, and the eurozone can take steps to make it a better union."
El Erian continued, "In terms of the rest of the world, there are three challenges of contagion, two of which I am not worried about. I am not worried about the economic contagion. I am not worried about the financial contagion.
"What I do worry about is the technical contagion, the shock to risk-appetite. And there will be an initial sell-off. But at some point, this is going to create entry points for markets that are fundamentally supported," El-Erian concluded.
Image Credit: Public Domain
Posted-In: CNBC Greece Mohamed El-Erian PIMCOAnalyst Color Eurozone Media
View Comments and Join the Discussion!