El-Erian: Expect 'Selloff In Global Equities' And Pressure On Greek, Eurozone And Emerging Market Bonds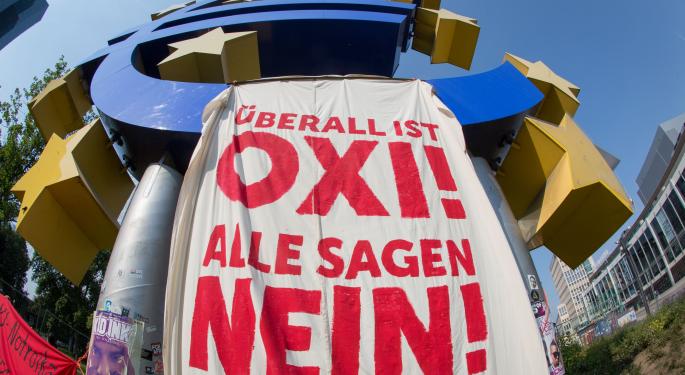 With Greeks apparently rejecting bailout terms from creditors, one expert expects turmoil in the markets.
In a Facebook post on Sunday, Mohamed A. El-Erian, Chief Economic Adviser at Allianz and former PIMCO head, warned if a no-vote is confirmed, "look initially for a general selloff in global equities, along with price pressures on the bonds issued by Greece, other peripheral Eurozone economies and emerging markets."
El-Erian then gave three variables that will affect what happens next:
"whether Greece and its creditors can work together to reconcile what were two very different interpretations in the run-up to today as to what a "no" outcome means, and do so very quickly and effectively"
"whether already horrid conditions on the ground, including the high likelihood of further delays in re-opening the banks and significant difficulties getting fresh money into ATMs, provide enough time for the politicians to get their act together"
"whether the ECB rolls out new measures to contain contagion"
Plan B
El-Erian also said it could be time for both sides to shift to Plan B: reduce the amount of "further human suffering, pain and uncertainty" in Greece and the eurozone.
The monetary union, established in 1999, has the ability to "limit contagion over time," he explained, which would keep the eurozone intact.
El-Erian concluded that now, it's much less likely Greece can stay in the EU "despite its willingness."
Posted-In: Grexit Mohamed El-ErianShort Ideas Eurozone Forex Economics Markets Trading Ideas Best of Benzinga
View Comments and Join the Discussion!