Exclusive: Airline ETF Manager Weighs In On Industry In Light Of DOJ Investigation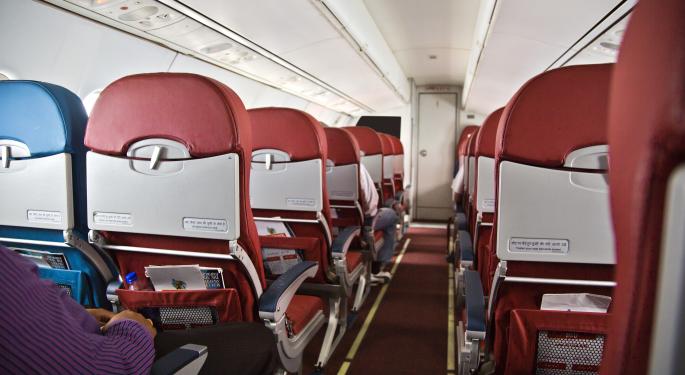 Airliners are selling off late in the day on Wednesday following news from the Department Of Justice that airliners would be investigated for collusion on airfares. Benzinga spoke with Frank Holmes, manager of the U.S. Global Jets ETF (NYSE: JETS) for his take on the news.
Holmes highlighted two problems in the airline industry that may have generated the interest from the DOJ. For starters, airliners all use the same Yield Management Software to help set prices. This software consists of an algorithm that will calculate airfare based on how much time exists between when an airfare quote is requested and when the scheduled departure date is. This action in itself may have bothered the DOJ based upon a first glance.
See Also: Airline Stocks Plummet Amid Department Of Justice Investigation
What compounds the issue is airliners' unwillingness to share prices openly on the online travel sites like Priceline Group Inc (NASDAQ: PCLN), Expedia Inc (NASDAQ: EXPE) and TripAdvisor Inc (NASDAQ: TRIP), among others. Those sites use cookies to store on a user's computer and when the users switch between sites to compare prices, the cookie remembers this and recalculates the price based on this information.
Orbitz Worldwide, Inc. was busted for this similar practice 2012 when the company charged users who booked services with Apple Inc. computers more than those with PC's under the assumption Mac users had a larger disposable income to tap into.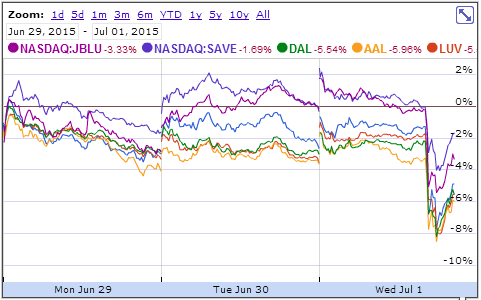 This is the outcome of big data management; algorithms used industry wide to manage interest, social trends and pricing relate into similar behaviors. Airlines run operations on a short string. Holmes said that airliners need to sell 80 percent of their capacity before they can turn a profit. This pressure on margins drives practices, such as raising the ticket price a given amount for a each seat is sold.
The way airlines keep prices low and compete in a materially profit manner has created a need to utilize algorithms to manage big data with variable inputs (a problem that Yield Manage Software like PROS solves)
Holmes doesn't take a side on the DOJ news and views this development as "an issue of big data management, not big collusion management" and further believes the airlines have damaged their brands by not transparently displaying prices at all locations.
Posted-In: Airliners Frank HolmesExclusives Best of Benzinga
View Comments and Join the Discussion!