Marathon's Richards Outlines What To Buy If Grexit Occurs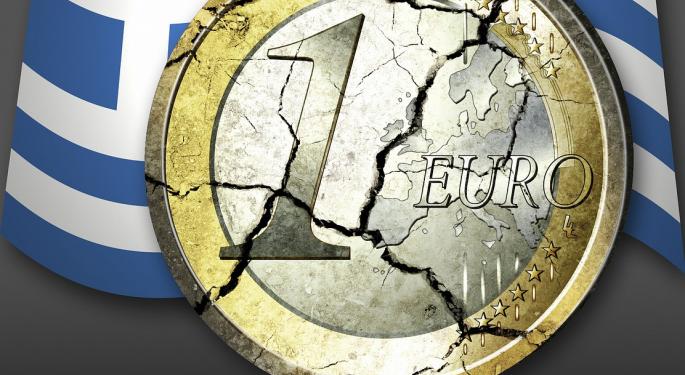 While most investors are panicking because of the consequences of the Greece debt crisis, Bruce Richards, CEO of Marathon Asset Management, thinks this can turn out be an opportunity to buy U.S. and European equities at distressed levels.
Richards was on Wall Street Week's "Web Extras" recently to discuss what investors should be looking to buy if the Greece debt crisis causes a market meltdown and other countries slide to defaulting.
Opportunity To Buy At Distressed Levels
"First of all, we are not buying anything in Greece at the current juncture," Richards said. "What we will be looking to do is if there is a fall in the second derivative, in the knock-on effect to the rest of Europe or to the U.S., then we would buy into that dislocation."
Related Link: Greece Sends New Letter To ECB & IMF
He explained, "So, in other words, if you go to a drachma and Greece actually goes off the cliff by voting 'no' or just gets too far down the road to, say for whatever reasons – which we don't think is going to happen, we think a deal will be cut with Greece – but if it goes the wrong way for Greece eventually long-term and Greece is out of the EMU, then there could be a knock-on effect over the course of next several weeks or throughout the course of summer.
"It will not be a Lehman-like event, but it will give us an opportunity to buy into distressed levels because of lack of liquidity."
Ukraine Is Next
On countries apart from Greece that are likely to default, Richards said, "What's more likely to default going forward than Greece or just as likely to default? Probably the Ukraine. There is restructuring that's being discussed right now in the markets with the IMF and with the creditors. They have about $17 billion in debt, and there's a group of four money managers that own the bulk of that debt, and there's currently a negotiation going back and forth behind the scenes."
Image Credit: Public Domain
View Comments and Join the Discussion!
Posted-In: Bruce Richards Greece Marathon Asset Management Wall Street WeekAnalyst Color Eurozone Media