'Star Wars: The Force Awakens' Will Be The "Record-Breaker Of All Record-Breakers"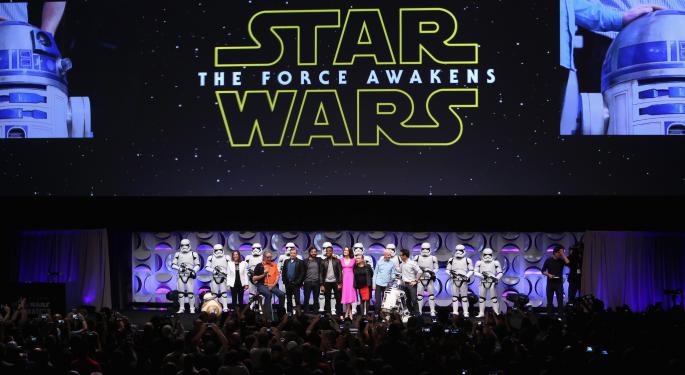 Analysts have high expectations for Walt Disney Co (NYSE: DIS)'s "Star Wars: The Force Awakens."
Box office estimates range from $250 to $500 million for the opening weekend alone. The film's second teaser set a new record after being viewed 88 million times in 24 hours.
"We got a number of more key blockbusters coming, including 'Terminator,' the new James Bond movie and the blockbuster to end all blockbusters in December, 'Star Wars,'" Tigress Financial Partners analyst Ivan Feinseth told Benzinga. "That will be the record-breaker of all record-breakers, I'm sure."
Rentrak Corporation (NASDAQ: RENT) Senior Media Analyst Paul Dergarabedian told Benzinga that there has never been a $100 million opening in December.
"Star Wars, I believe I can say, unequivocally, will be the first to do that," said Dergarabedian.
"The Hobbit" and "The Lord of the Rings" trilogies earned nearly $6 billion collectively (roughly $1 billion for each film), but none of those films enjoyed an opening weekend debut of $100 million. "The Hobbit: An Unexpected Journey" came fairly close with a three-day haul of $84.6 million. Dergarabedian said that movie studios still like the December sales period because it allows Hollywood to introduce a new blockbuster with fewer competitors.
Related Link: 'Inside Out' Delivered An Incredible Performance Against 'Jurassic World,' But Dinosaurs Still Won
"You launch [in December] and then you're in a much less competitive period," Dergarabedian explained. "That's why the two highest-grossing movies of all time were not summer releases, they were December releases, so they had a wide open playing field in January, February and March."
Dergarabedian is referring to "Avatar" and "Titanic," which have earned more money domestically and internationally than any other film.
Survival Of The Fittest
Movie studios have had a lot of success with trilogies, but it can be difficult to go beyond three films -- especially if the first two sequels disappointed moviegoers. This was evident by the release of "Scream 4," which bombed at the box office. The "Pirates of the Caribbean" series continues to perform well globally, but its earnings have declined in America, indicating that some consumers are getting tired of the franchise. The "Transformers" franchise has faced a similar fate.
"If you have a second or third installment that is lackluster, you really can kill the golden goose," Dergarabedian warned. "It's really hard to pull people back for the fourth."
Dergarabedian pointed to a rare exception: "The Fast and the Furious."
"They [weren't] gonna spend the money [needed to retain] the big-time talent," said Dergarabedian, referring to the third chapter. "Then they got smart. They're lucky they were able to get the momentum back."
Related Link: Despite Star Wars Hype, Morgan Stanley Cools On Disney's Stellar Value
Both "The Fast and the Furious" and "Jurassic World" come from Universal Studios, which is owned by Comcast Corporation (NASDAQ: CMCSA). Dergarabedian added that if a studio is going to produce a multitude of sequels, "You better do it right because you can taint the entire legacy of an entire franchise or vertical."
For now it seems that Universal's main franchises have maintained their strength. "Star Wars" is expected to do the same when "The Force Awakens" arrives this December.
Disclosure: At the time of this writing, Louis Bedigian had no position in the equities mentioned in this report.
View Comments and Join the Discussion!
Posted-In: Ivan Feinseth Paul Dergarabedian Rentrak Corporation Star WarsAnalyst Color Exclusives Analyst Ratings Tech Best of Benzinga