What Is 'Cord-Cheating' And How Is It Hurting Cable Providers?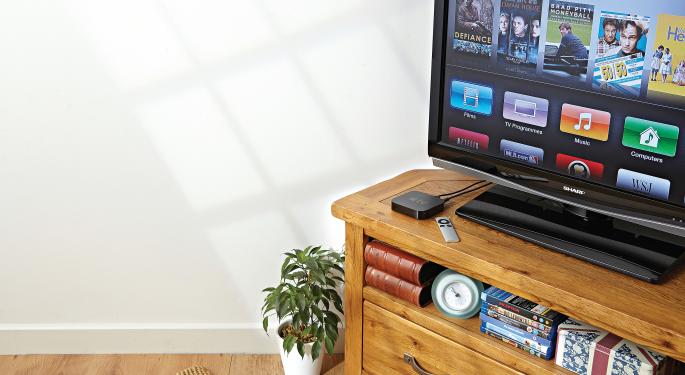 Digitalsmiths recently released the results of its quarterly survey on Pay-TV providers, content owners and consumer electronics manufacturers. This quarter's survey polled 3,144 consumers in North America and sheds light on the latest trends in digital entertainment.
Here are some highlights from this quarter's survey.
Cord-Cutting On The Rise
About 7.7 percent of respondents in the most recent survey indicated that they switched Pay-TV providers during Q1, a 2.0 percent year-over-year increase. In addition, 15.3 percent of respondents are planning to switch (3.1 percent), change (7.4 percent) or cut service completely (4.8 percent) sometime during the next six months.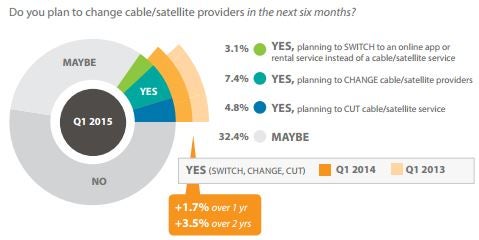 Related Link: Exclusive: How The Smashing Pumpkins' Billy Corgan Would Revolutionize The Music Industry
Satisfaction Not Guaranteed
In terms of satisfaction, 24.2 percent of those surveyed indicated that they are currently unsatisfied with the value they are getting from their cable/satellite provider. The top reasons for dissatisfaction include increasing fees for cable/satellite service (71.7 percent), increasing fees for Internet service (46.4 percent), poor customer service (38.1 percent) and bad channel selection (33.8 percent).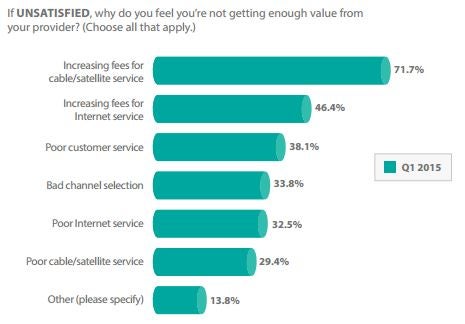 Customized Channels
Among the hot topics of debate in the world of television is the potential for viewers to select only the channels that they wish to watch. In fact, 81.6 of respondents indicated that they would prefer a customized channel package.
When asked which channels they would select as part of a customized package, Walt Disney Co (NYSE: DIS)'s ABC, Discovery Communications Inc (NASDAQ: DISCA)'s Discovery Channel, CBS Corporation (NYSE: CBS)'s CBS, Comcast Corporation (NASDAQ: CMCSA)'s NBC and History Channel were the five most popular selections.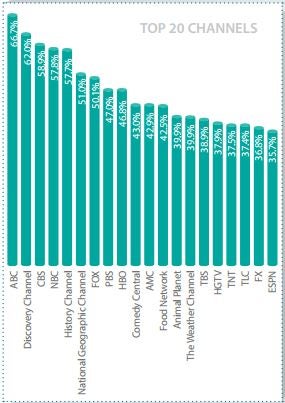 Cord-Cheating
One growing phenomenon in the TV and movie service industry in recent years is what Digitalsmiths refers to as "cord-cheating."
According to the report, "Cord-cheating, a phenomenon Digitalsmiths began tracking in Q2 2013, refers to the trend by cable/satellite subscribers who seek on-demand video content, and now linear TV, from third-party and OTT services as an alternative to their Pay-TV providers' offerings."
Over half (54.4 percent) of respondents subscribe to a monthly subscription TV or movie service, with Netflix, Inc. (NASDAQ: NFLX)(46.4 percent), Amazon.com, Inc. (NASDAQ: AMZN)'s Prime (18.9 percent) and Hulu (11.4 percent) ranking as the three most popular services.

About 40 percent of those surveyed report using a pay-per-rental service, with Outerwall Inc (NASDAQ: OUTR)'s Redbox Kiosks (18.4 percent), Amazon Prime Instant Video (15.8 percent) and Apple Inc. (NASDAQ: AAPL)'s iTunes (9.0 percent) ranking as the most popular choices.

Disclosure: the author holds a short position in Amazon.
View Comments and Join the Discussion!
Posted-In: cable TV cord-cheating cord-cutting Digitalsmiths televisionAnalyst Color Tech Best of Benzinga