Citi: 'Bigger And More Powerful' Trade Agreements On The Horizon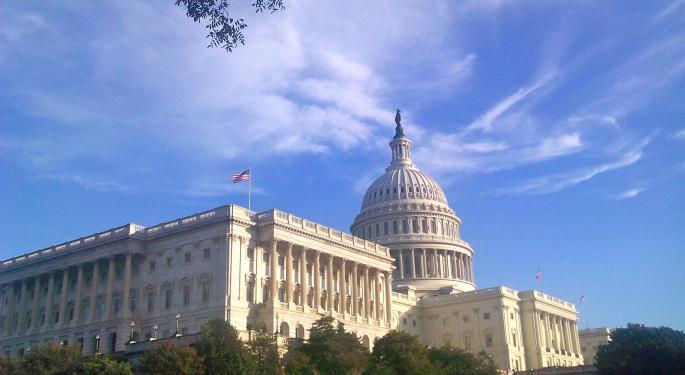 The U.S. Senate finally approved Trade Promotion Authority (TPA) for the president on Thursday in a 60-38 vote. The six-year legislation will allow the commander-in-chief to "fast-track" trade agreements. Congress will only be able to vote trade legislation "up or down" without making amendments.
In a report published Thursday, Citi Research analyst Kate McShane suggested that this historic concession of power to the president could clear the road for "bigger and more powerful trade agreements."
The Trans-Pacific Partnership
Negotiators, according to McShane, have said that passage of the TPA would be crucial to completing a 12-nation trade deal with countries around the Pacific Ocean, known as the "Trans-Pacific Partnership." The partnership would link 40 percent of the world's economy -- from Japan and Australia to Canada and Australia. McShane says that the TPP would bolster the U.S. economy, reassert Congressional oversight in trade negotiations, and reestablish America as a dominant player in world trade.
Related Link: Thursday's Mid-Day Movers: Supreme Court's Obamacare Ruling Lifting Stocks
She believes a finalized framework could be in place by this fall.
Not Just The Pacific
McShane notes that Obama's newly acquired "fast-tracking" ability may help him forge partnerships outside of the Asia-Pacific region. Specifically, she mentions a Wall Street Journal report that says "the authority could help Obama and his successor with negotiations over a U.S.-Europe trade deal, the Transatlantic Trade & Investment Partnership."
Ulterior Motives
The TPA initially faced significant opposition from both main parties. According to McShane, Democrats were hesitant to allow the president to "fast-track" TPP legislation and potentially threaten American jobs with increased foreign competition. She says Republicans, on the other hand, were loath to grant the commander-in-chief more power.
But in the end, both red and blue congressmen came together to pass the bill. McShane believes that liberals were placated by the approval of a jobs protection component to future trade deals (see below), while the GOP decided to offer Obama added authority in exchange for increased congressional oversight over both the administration and the trade negotiation process.
The TAA Is Up Next
Congress is now set to approve a bill that would protect American workers through a Trade Adjustment Assistance (TAA) program, according to McShane. The proposal would provide workers who lose their jobs to foreign competition with technical training and financial aid. McShane says that the TAA has been bundled with legislation that would give trade perks to sub-Saharan African countries and is now headed to the House to be passed.
Posted-In: Citi Citigroup Congress Kate McShaneAnalyst Color Top Stories Economics Analyst Ratings Best of Benzinga
View Comments and Join the Discussion!