Greece Is Closer To 'The Abyss,' Warns Berenberg Chief Economist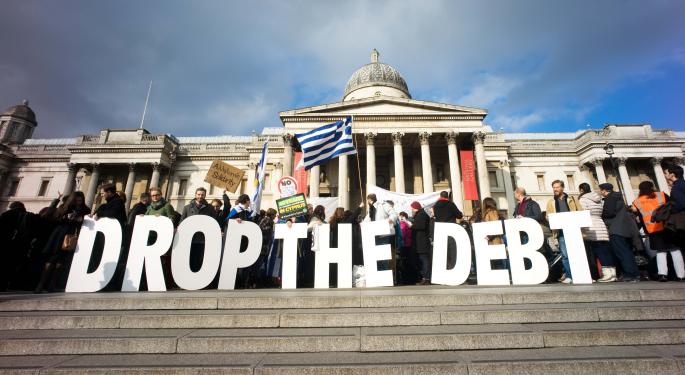 Far from the blue waters of Santorini and the mighty power of the ancient European bridge nation, the 2010s have not been a decade for the Greeks. After countless loans from the European Central Bank, the introduction of austerity measures, and what seems like 8 million tonnes of pressure (~7,257,477,920 kilos), Greece is on the brink of having to actually make a decision.
The newest economic update from Berenberg Chief Economist Dr. Holger Schmieding sheds some light on the upcoming debacle of a "Grexit" as it becomes more apparent to main street that Greece represents a massive problem.
There's a payment deadline for Greece to repay the International Money Fund €1.6 billion due on June 30, of which a deal will have to be struck in order to make the payment on or around the date.
There is, however, an even bigger deadline to worry about.
A Bigger Deadline
Toward the end of next month, Greece is going to have to repay €3.5 billion in bonds held by the ECB. If Greece doesn't repay the principals, according to Schmieding, the ECB will lose almost all of its ability to advocate the solvency of Greek banks, and the entire system might come crashing down.
It's not July 20, 2015 just yet, but as the days inch closer to the repayment deadline, the markets will start to (and already have been in) decline. Schmieding finally laid out what Draghi and the ECB already know: "Greece is de facto broke."
There are a multitude of things to think about in this situation: contagion, the strength of the euro, ultimatums, and most importantly, reality.
While contagion among the Eurozone is highly unlikely on multiple fronts (countries have been well aware of the credit risk at this point), the Euro will still be the Euro and deadlines can always be mangled into different situations.
The Most Frightening Part Of The Situation
Reality, however, is the most frightening of all. After years of austerity in Greece (and poorer citizens thanks to layoffs and the majority of the population working in the public sector, it seems), the deficits are growing and the rhetoric continues to deeply frighten every onlooker and creditor.
What does this mean? In Schmieding's eyes, a rise in Grexit risk from 30 to 40 percent is not exactly in line with the wishes of Europeans.
"Europe wants to keep Greece in the euro, and as usual is ready to be flexible," he wrote. "Only Greece could impose capital controls and restrictions on deposit withdrawals. Athens will probably not resort to that."
Posted-In: Berenberg Holger Schmieding SantoriniAnalyst Color Global Opinion Economics Analyst Ratings Best of Benzinga
View Comments and Join the Discussion!