Sony Took A Big Bite Out Of Apple This Week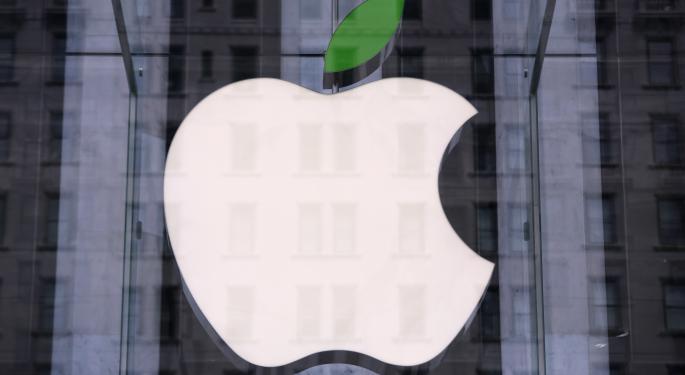 Sony Corp (ADR) (NYSE: SNE) announced that PlayStation Vue will be the first online pay-TV service to offer a la carte channel subscriptions. The initial lineup is limited to three channels (Showtime, Machinima and Fox Soccer), but many more are on the way.
This could be seen as a huge blow to Apple Inc. (NASDAQ: AAPL), which might have delayed its plans to launch an a la carte TV service. Granted, Apple has not actually confirmed that it is developing a streaming video service of any kind, but the company has been rumored to be working on this concept for a few years.
The rumors started when Apple was first thought to be working on a TV set. Apple shelved that project more than a year ago.
"TV seems to be one of the most difficult areas for new companies to successfully move into," tech industry expert and analyst Jeff Kagan told Benzinga. "Only a few, like AT&T U-verse and Verizon FiOS, have done a great job so far."
Kagan said that consumers (and investors) have been waiting "for years to see Apple jump into the TV space."
"Except for a limited version, we are still waiting," he said. "[But] I have said for many years that I simply don't see Apple jumping into this space and everything has played out that way to date."
Related Link: E3 2015: How Sony Could Lose Its Leverage To Microsoft
A Genuine Threat?
Rob Enderle, principal analyst at Enderle Group, said that Sony's news is "potentially" bad for Apple. He said that the firm's latest offering, Apple Music, is getting "pretty poor reviews" by Apple standards.
"It just makes Apple look bad," Enderle told Benzinga. "I doubt it will result in any customer or revenue loss to them. Apple folks are tied pretty tightly to Apple and music alone won't get them to switch."
Enderle said it is "doubtful" that Sony will be able to ink the necessary agreements to flesh out its a la carte options.
"The existing cable agreements pretty much prevent this, as Intel found out -- which is why they bailed from their very well-funded TV effort," Enderle explained. "So I expect this Sony effort, while well-intentioned, will fall short."
Patrick Moorhead, president and principal analyst at Moor Insights & Strategy, is also skeptical. However, he said that if Sony can expand its lineup "and do the necessary marketing and partnerships to get the service on other devices, it could be huge."
"I don't think this is bad for Apple," said Moorhead. "Apple, I think, is close to launching their own, so it's not like Apple is two to three years behind. Also, you have to consider Sony a challenger now. They aren't the Sony of old who held Apple's spot in the consumer space."
Related Link: Why AMD And NVIDIA Are Worth Watching
Long-Term Expenses
Consumers want a la carte TV in order to cut the cord and save money. Will it pay off or result in greater expenses?
"Initially, most potential customers won't save money, they will pay more," said Moorhead. "Those consumers who absolutely don't like sports, news or Disney could save a lot of money as those are the most expensive kinds of [channels]."
Kagan concurred but warned this could change in the future.
"Right now a la carte would save customers money," said Kagan. "However, I would not put it past some industry players to change the economic model to protect their market share. That is already happening with the Internet. We pay for television much differently today than we did in the past. Today we pay more for Internet and less for cable television. That could happen with a la carte as well."
Enderle said the cost ultimately depends on the price of individual channels versus the existing cable bundles.
"Since we haven't seen the vast majority of channels unbundled -- and the networks are against unbundling -- unless the government gets involved [to] force reasonable pricing, it either will not happen or it will be more expensive to unbundle."
Disclosure: At the time of this writing, Louis Bedigian had no position in the equities mentioned in this report.
View Comments and Join the Discussion!
Posted-In: Apple TV Jeff Kagan Patrick Moorhead PlayStation VueAnalyst Color Top Stories Exclusives Tech Best of Benzinga