What Q1 Data Can Tell Investors About Solar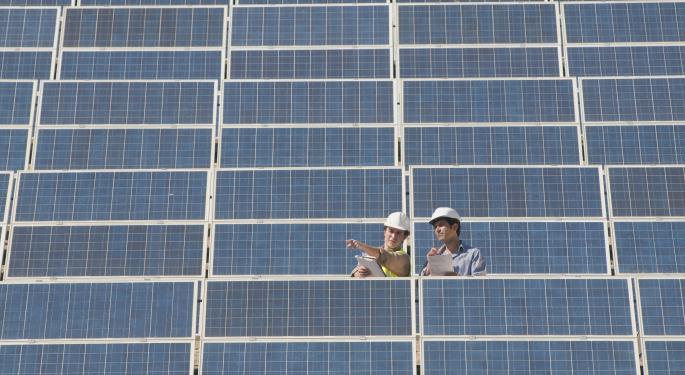 Each quarter GTM Research (GTM) and the Solar Energy Industries Association (SEIA) jointly publish a U.S. Solar Market Insight® report and executive summary of the data used to identify and analyze trends in U.S. solar demand, manufacturing and pricing.
GTM also utilizes this analysis to forecast demand over the next five years based on data gathered from ~200 utilities, state agencies, manufacturers and installation companies.
Here are highlights gleaned from the Q1 2015 report executive summary.
Solar Big Picture
Residential solar installations grew 11 percent over Q4 2014, despite the first quarter being seasonally slower, and difficult winter weather conditions. The two largest residential solar companies are SolarCity (NASDAQ: SCTY) and Vivint Solar (NYSE: VSLR).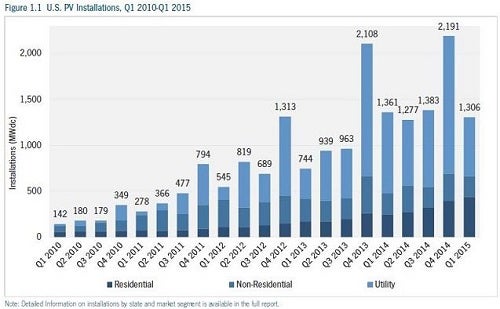 Source - GTM Research/SEIA U.S. Solar Market Insight®
However, both utility and non-residential installations were down during the same period.
GTM expects a strong FY 2015, noting record utility-scale projects in the pipeline, driven by the federal Investment Tax Credit (ITC) window closing after 2016.
Non-residential projects in California and New York are expected to gain momentum during FY 2015.
Related Link: Is Vivint Solar's Blackstone Commercial & Industrial Announcement A Game Changer?
GTM/SEIA Data Highlights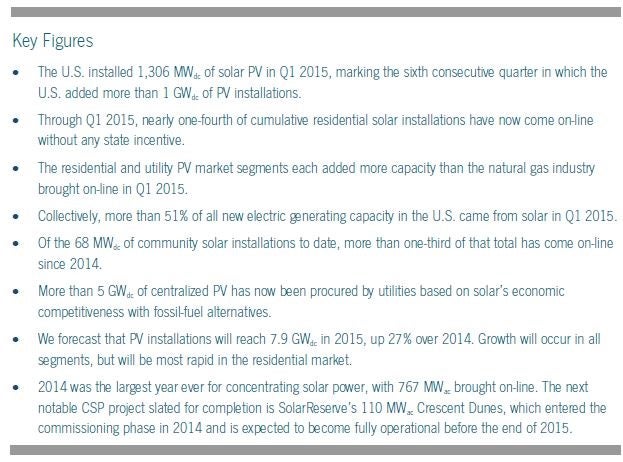 Key Trend - Technology Convergence
The report noted that "distributed solar has historically been primarily a single offering to customers, solar developers and installers are increasingly seeking opportunities to combine solar with other technologies and services," including:
Energy Storage: "Commercial customers can use energy storage to optimize their solar generation and avoid costly peak demand charges, while residential customers can use energy storage to allow their solar systems to provide backup power in the event of grid outages."
Notably, "Solar and storage are also often the core elements of microgrids, which are growing throughout the country."
Load Control: "…solar is increasingly being offered in combination with electricity load control (or smart home/building) services, which optimize overall electricity consumption and solar generation against customers' utility tariffs."
One example cited was the inclusion of smart thermostats with residential solar installations.
Demand Response: According to the U.S. DOE, "Demand Response provides an opportunity for consumers to play a significant role in the operation of the electric grid by reducing or shifting their electricity usage during peak periods in response to time-based rates or other forms of financial incentives."
The report noted that SunPower Corp. (NASDAQ: SPWR) and EnerNOC, Inc. (NASDAQ: ENOC) were testing new programs.
Electric-Vehicle Charging: "As the electric-vehicle market grows, more and more solar companies are likely to partner with EV charging suppliers on combined services."
Huge Utility-Scale Project Pipeline

Source - GTM Research/SEIA U.S. Solar Market Insight®
In an effort to put projects into service prior to the federal ITC being reduced from 30 percent to 10 percent beginning in 2017, utilities and contractors are gearing up for a 1.5 year race to the finish line.
Notably, "there are now 25 developers with pipelines in development of 100 MWdc or more."
Decreasing Residential System Pricing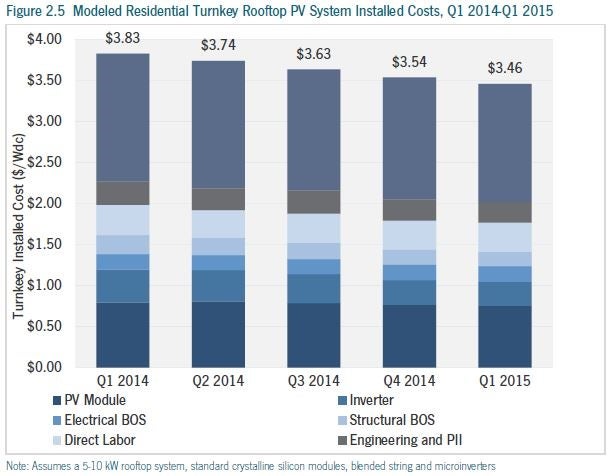 Source - GTM Research/SEIA U.S. Solar Market Insight®
Decreasing Non-Residential System Pricing
Source - GTM Research/SEIA U.S. Solar Market Insight®
Despite the overall trends toward lower pricing for both residential and non-residential systems, the federal ITC looms even larger when it comes to forecasting solar PV installations for the next five years.
What Investors Need To See

Source - GTM Research/SEIA U.S. Solar Market Insight®
GTM is forecasting that the solar industry will have to scale back across the board after 2016 based upon the phase out of the ITC; however, residential installations are modeled to bounce back to 2016E levels within two years.
View Comments and Join the Discussion!
Posted-In: Analyst Color Long Ideas Education Top Stories Tech Trading Ideas General Real Estate Best of Benzinga