RBC: Nelson Peltz Could Go Activist In These Stocks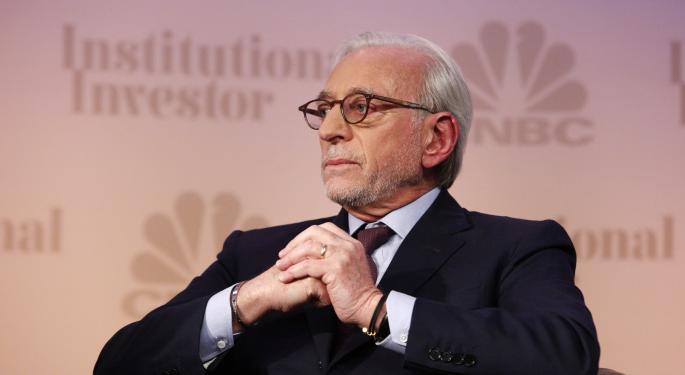 In a report published Friday, RBC Capital Markets analyst Deane Dray noted that activist investor Nelson Peltz hinted last week that his Trian Partners fund is looking at two potential activist actions within the industrial sector.
"Fresh from narrowly missing the proxy vote at DuPont and following a successful investment in Ingersoll-Rand, Mr. Peltz appears to be reloading in the industrial sector," Dray wrote. "His disclosure touched off significant scrutiny and debate among investors as to which companies might be revealed as the targets."
Dray said Peltz looks to take activist stakes in companies with "strong brand equity" and a large recurring revenue base. Peltz believes that a large installed base and service component can create "more resilient" business models, which are ideal in a slow-growth macro environment and for longer-term investments.
With that said, Dray suggested that the most likely targets for activist involvement include Emerson Electric Co. (NYSE: EMR) and Actuant Corporation (NYSE: ATU).
Emerson 'Stands Out' As Most Likely Investment
According to Dray, Emerson "stands out" as Peltz's most likely target as the stock has "fallen from grace" over the past few years and remains "mired" in a "protracted" turnaround.
The company was once revered for its 41 consecutive years of earnings growth but has most recently missed 10 of its last 19 quarterly earnings. As such, the stock is trading at a "severe" discount to its peers and historical average. In addition, the company "remains vague" on the fate of its Network Power business which could either be fixed, spun or sold.
Actuant: Shares Trade At Huge Discount
Dray noted that shares of Actuant are trading at the highest sum-of-the-parts valuation discount to his coverage at 26 percent. Although Peltz doesn't place as much focus on quantitative analysis, if he doesn't step in to unlock value, other activist investors could. Actuant's near-term operating risks to sectors including oil and gas which created a "disproportionate" impact on investment sentiment, implying further attractiveness.
However, the company's relatively small market cap of $1.4 billion is well below the average size of companies within Peltz's portfolio of $38 billion and Actuant lacks the recurring revenue base that Peltz seeks.
3 Other Companies Being Debated
Dray stated that Eaton Corp plc (NYSE: ETN)'s recently announced provisions from its Cooper merger prevent the company from spinning off its Hydraulics in a tax-efficient manner until 2017. This would have been top priority for an activist investor to engage in. Without this option, the potential for an activist investor-induced upside is "limited."
Tyco International PLC (NYSE: TYC) may fit the profile Peltz looks for with a 25 percent recurring/service revenue base. However, the analyst confidently removed the name as an activist target as it is not "mis-managed" or underperforming. The company also highlighted a positive future outlook and is looking to expand its margins by 170 to 270 basis points through fiscal 2018.
W W Grainger Inc (NYSE: GWW) "arguably" looks like an activist target given an "eroding" business model and un-realistic long-term growth targets. The analyst did suggest the company avoided an activist battle with its "supersized" $3 billion share buyback through 2017, but the company could re-emerge on an activist's watch list if it fails to "meaningfully" reverse its operating deterioration.
View Comments and Join the Discussion!
Posted-In: Deane Dray Nelson Peltz RBC Capital Markets Trian PartnersAnalyst Color Analyst Ratings Best of Benzinga