What's The 'New Normal' Rig Count?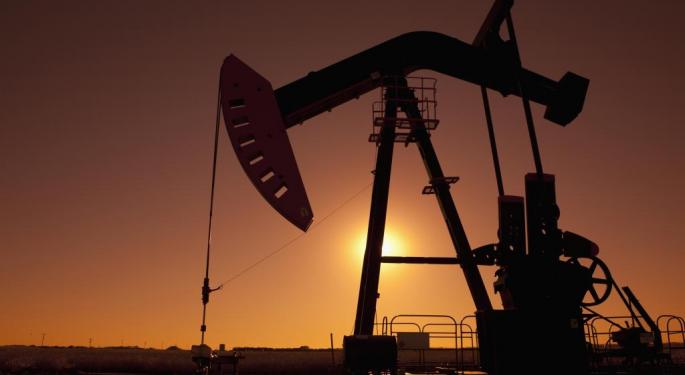 With the price of shale service stocks rallying 25 percent over the past year, U.S. oil rig counts are expected to rise in response to increasing oil price and demand. The question is: How much?
In a recent report, analysts at Citi Research constructed four possible demand scenarios to model rig count numbers for 2015 and beyond.
Test Cases For U.S. Oil Demand And Production
Based on the current pricing threshold for drillers and pumpers, potential exists for horizontal rig counts to rise to at least 1100, assuming incremental demand growth of 700kbpd.
Related Link: Is The Shale Oil Market Recovering?
Citi analysts projected oil rig count recovery through 2020 using four basin-level activity models: 1) "V shape recovery," which assumes 800kbpd average growth in 2016 and 2017; 2) "U shape recovery," which assumes 200kbpd production growth in 2016 and 700kbpd growth in 2017; 3) "Nike Swoosh," which projects 300kbpd average growth over the next three years; and 4) "Flat," which assumes production will hold at 700kbpd additional growth by late 2015.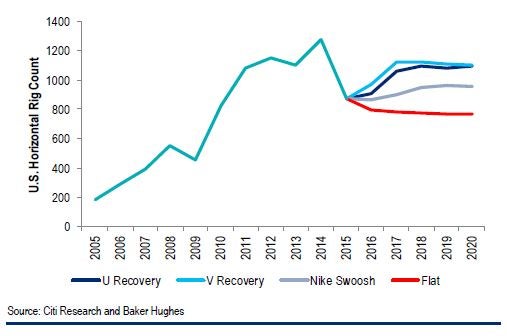 Takeaway From Production Models
Citi's projections reveal that only 75 additional rigs are required for U.S. oil production to hold flat in 2016. For a strong recovery -- in other words, if "incremental call" on the U.S meets the majority of global demand (>1mmbpd equivalent) -- drillers and pumpers will be able to secure pricing power.
On the other hand, if the U.S. only meets a minority of global demand, attrition in U.S. oil production will be necessary.
Impact Of Efficiency Gains Hard To Predict
It is uncertain as of yet how efficiency improvements will affect U.S. oil rig counts. More upside in efficiency is predicted for operations at the Permian basin compared to operations at established basins at Bakken and Eagle Ford.
New technologies such as automated drilling will also contribute to efficiency gains in the future.
Posted-In: new normal rigs Oil oil rigs shale oilAnalyst Color Commodities Markets Analyst Ratings Best of Benzinga
View Comments and Join the Discussion!