What Does Fintech, Chinese Social Media & Kyle Bass Have In Common? Renren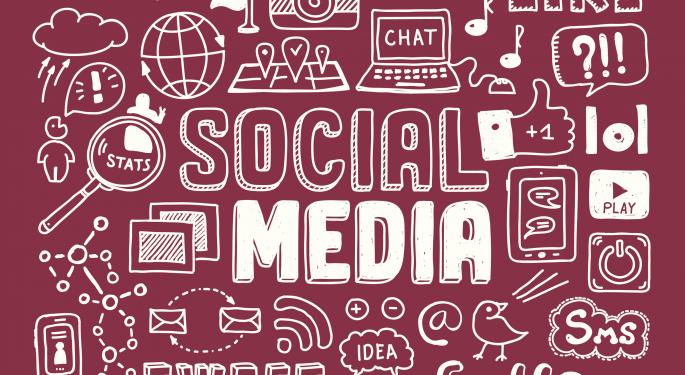 Renren Inc (NYSE: RENN) began as a burgeoning social media company headed up by Joseph Chen. Considered to be the "Facebook Of China," it struggled to grow and diversify its business from competitors like WeChat.
Trying to fight off the gloomy fates of doomed, less dynamic sites such as Myspace, Google Plus and Friendster, Renren looked to the online lending sector. In September 2012, Renren invested in a Series B round in a student loan marketplace called Social Finance, also known as SoFi. Understanding its users were predominantly young college students, Chen wanted to invest in a company that could provide alternative student loan lending options to his base users. Three years later, Social Finance is looking to IPO for around $3.5 billion, 25 percent of which belongs to Renren.
Renren's Recent Long-Term Investments
Long-term investments for Renren began to skyrocket proceeding its Series B round investment in SoFi. Its investing activity started to grow as revenues from operations started to falter. So, is Renren a venture capital play as opposed to a social media play? Here's a look at some its long-term investment holdings over the past three years.
Each of Renren's fintech/consumer investments are ranked based off of stake, upside and other notable investors in the listed companies.
1. Social Finance - Fintech, $89 Million
Invested in Series B, D, E rounds for 25 percent total stake
Implies post-money valuation of $1.3 billion according to Wall Street Journal
Notable investors in SoFi Include Peter Thiel, IVP, DCM, Wellington and Third Point
Description: Student or young professional loan marketplace, to IPO in next few months.
2. Lending Home - Fintech, $70 Million
Invested in Series D round for 15 percent total stake
Implied post-money valuation of $390 million
Notable investor includes Foundation Capital
Description: Online mortgage marketplace
3. Motif Investing - Fintech, $40 Million
Invested in Series E round for 10 percent total stake, with warrants to acquire more shares.
Implies post-money valuation of $400 million
Notable investors include Goldman Sachs, JP Morgan, Foundation Capital
Description: Investment tools to build own portfolio around a theme or strategy
4. Cheyipai - Consumer, $110 Million
Invested in Series D round for 20 percent total stake
Implies post-money valuation of $390 million
Notable investors include Sequoia Capital, CITIC Capital, Matrix
Description: Leading online platform for used car sales in China
5. Credit Shop - Fintech, $30 million
Invested in Series A round for 25 percent stake, credit line of $15 million included.
Implies post-money valuation of $60 million
Notable investors includes Green Visor Capital
Description: Direct personal emergency loans
6. Snowball Finance - Fintech, $40 million
Invested in Series C round for undisclosed amount
Notable investors include Sequoia Capital
Description: Financial information, most recent initial fintech investment based on size.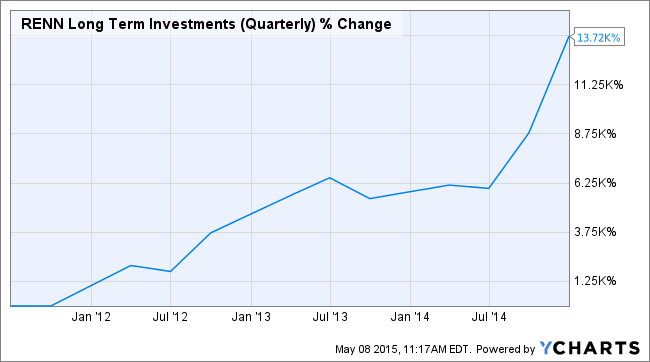 In total, Renren holds over 30 venture capital investments with $275 million in fintech and around $550 million total investments. One of the more intriguing, off-the-radar investments made by Renren was with Kyle Bass. Renren recently invested $50 million in Japan Macro Opportunities Offshore LP, with $30 million also going to Bass' new pharmaceutical patent fund Hayman Credes Offshore Fund LP.
Broken Stocks?
Benzinga reached out to John Romero, formerly the manager of a highly-ranked $300 million long/short equity hedge fund. He believes broken tech stocks create excellent asymmetrical opportunities because the stock often times trade around its net cash balances, no debt and an underestimated ability to turn things around.
In the case of Renren, Romero said, "it is essentially now a VC investment business that is disguised as a declining China SNS operating business. It should be valued more on its balance sheet assets, not its operating metrics. It has strategic fintech assets in things like SoFi, Lending Home, Motif, etc and appears to be taking on the look of a VC proxy, similar in many ways to what CMGI did in the dot com cycle."
CMGI merged with Modus Media in 2004. ModusLink Global Solutions, which was created in 2008, trades on the NASDAQ under the ticker MLNK.
Romero said he "can only hope Renren has a better ending. To date, Joseph Chen has been a better investor visionary than an operator of consumer websites."
CMGI was a mailing list distributor that transitioned to become a tech incubator holding. According to Saul Hansell's New York Times piece on the company back in 2000, it had a market value of $41 billion in 1999 and returned 4,921 percent in the prior five years. Eventually, CMGI came to spread out across multiple startups that were not operationally effective. The burn rate from its struggling operating business caught up with the ever-changing tech aspirations of CEO and Chairman Dave Wetherall.
Chen seems more strategic, and concentrated in his tech long-term investments, but he does face the same problematic perceptions in its own operating business.
Adding many of Renren's cash and liquid line items while subtracting known spending up to this point, it could be assumed that Renren has a range of approximately $350 million to $400 million in cash equivalents.
A Seeking Alpha article written by Michael Fu from ATEL Capital mentioned how Fu is not a fan of Renren's core business, which may be understandable given its decreasing revenues in the table seen below.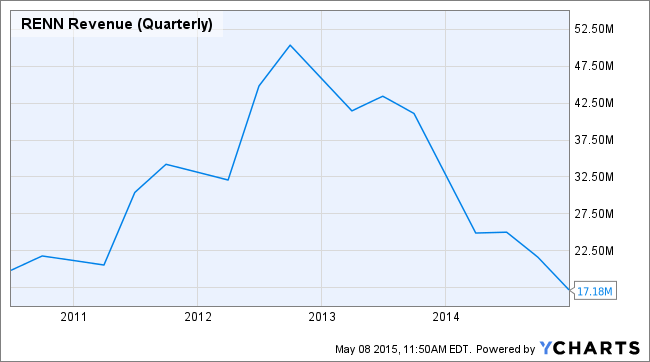 However, Fu breaks down the value play of the SoFi IPO in Renren along with stating his interest in other companies such as Yik Yak, GoGo, Fundrise and Mapbar. Finding online lending industry interesting, Fu said he would rather invest in Renren to gain exposure to that market rather than IPOs of such companies as he worries about the "unicorns" of tech companies valued at over $1 billion.
Fu shared his thoughts with Benzinga regarding the company's recent 20-F. While he's still interested in the company's long-term investments, he would only evaluate Renren with regard to SoFi and not the more recent findings. However, he still sees the stock reaching right around $4.50 when SoFi does IPO, given its $3.5 billion potential valuation. Fu said, "anything beyond that price is speculative" for him.
The Future
Renren has an interesting future. There have been VC experts who believe Renren is a risky social media play with long-term potential in some of their holdings. Others say it's a transitioning venture capital firm with boom-or-bust potential centralized on fintech.
Although both thoughts could be true, and each provide an attractive trade idea to investors, there could be an easier way to understand Renren stock. Renren could be using its social media platform to introduce a long-term online lending vision through its fintech investments.
View Comments and Join the Discussion!
Posted-In: John Romero Joseph Chen Michael FuFintech Exclusives Tech Trading Ideas Best of Benzinga