SolarCity Earnings Call - 2 Analysts With 2 Different Views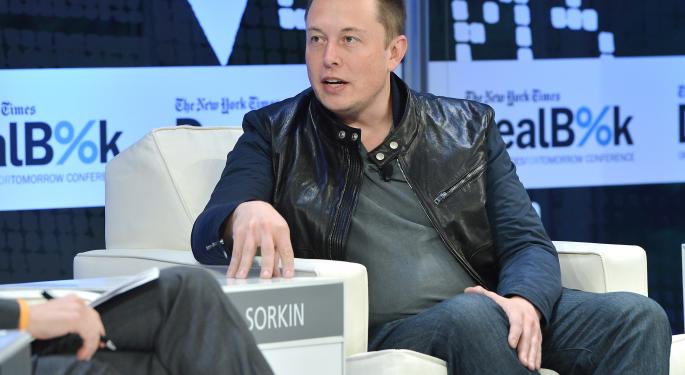 After the market close on May 5, SolarCity Corp (NASDAQ: SCTY) announced Q1 results, and discussed new metrics, including: unlevered IRR, Economic Value creation to equity, and incremental CAFD (similar to a YieldCo metric).
Both Morgan Stanley and Credit Suisse weighed in the day after the earnings call.
Tale Of The Tape - Day After Q1 Earnings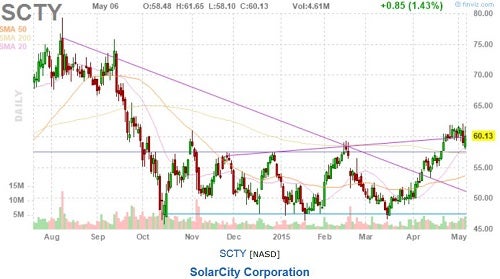 SolarCity shares have traded in a 52-week range of $45.79 - $79.40, closing on Wednesday up just over 1.4 percent, at $60.13 per share.
Credit Suisse - SolarCity: Outperform, PT Raised From $97 to $99
The new Credit Suisse price target represents a potential 64.6 percent upside from SCTY's Wednesday close.
The revised SolarCity price target was derived by CS using a discounted cash flow (DCF) model, with key assumptions include a 12% discount rate with 84% megawatt growth in 2015, 44% growth in 2016, and 15% long-term with incremental retained value per watt, net of operating expenses, increasing to $1.40 by 2016 and declining to $0.90 following the reduction in the Investment Tax Credit reduction in 2017.
Notably, CS views any weakness in SCTY shares "as a buying opportunity."
Credit Suisse - SolarCity: Rationale
SolarCity reported Q1 installations of 153 MWs, exceeding both guidance and CS estimate of 145 MWs.
Total bookings of 237 MW in the quarter increased 15% q/q and 74% y/y and are an all-time record, even despite challenges in AZ.
CS noted SCTY "management reaffirmed 2015 deployment outlook of 920-1,000 MW which represents y/y growth of 88%- 99%."
Credit Suisse - SolarCity PT Risks
Risk factors noted by Credit Suisse included: "increased competition, regulatory changes for net metered energy and utility rates, interest rates, energy rates, solar panel prices, and IRS and US treasury department investigations."
Morgan Stanley - SolarCity: Equal-weight, PT Unchanged $92
Notably, the MS price target remains unchanged in this note at $92 per share, the same target price when SCTY coverage was initiated in August 2014.
However, the MS analysts "do not see this as an attractive entry point for SolarCity given lofty expectations today."
Morgan Stanley - SolarCity Q1 Takeaways
SCTY Q2 installation guidance of 180MW "was lighter than [MS] estimate of 214MW; however, MS feels SCTY will "make up for seasonal 1H weakness in the 3rd and 4th quarters."
The CFO disclosed that "he currently has 624MW of undeployed tax equity capacity, which sets the company up nicely for a strong ramp in the second half of 2015."
SolarCity also estimated "an 11% unlevered IRR on the deployments in the quarter, which is a new metric that we believe will give analysts additional comfort around the profile and level of project returns."
MS noted that management also indicated that they would provide a CAFD number "akin to what Yield Co's provide" on their Q2 conference call.
Morgan Stanley - Tesla Battery Impact
SolarCity will be selling the Tesla Motors (NASDAQ: TSLA) new Powerwall battery storage "at $5,000 (including installation), which they believe is a 60% cost decline over prior generations of storage."
SolarCity "will initially target backup generator customers that value high quality grid-independent capabilities, which is consistent with our view that opportunities for direct bill offsets for residential or commercial customers are limited for the foreseeable future."
MS noted that "fixed charges and other unfavorable regulatory developments that (ironically) inhibit the growth of distributed solar broadly could increase the probability that storage gains broader traction."
SolarCity reiterated that they plan to offer off-grid options starting in 2016 in Hawaii, but they would prefer to negotiate a more flexible "middle ground" with state regulators.
Morgan Stanley - SCTY Bottom Line
MS believes "the market expects management to hit their 920-1,000MW deployment guidance for 2015 (and possibly more) with minimal erosion in pricing and profitability, while enjoying significant access to very low cost capital for the foreseeable future."
MS feels these "risks approximately balance upside at current levels."
Posted-In: Credit Suisse Morgan Stanley Powerwall Home battery SolarAnalyst Color Analyst Ratings Tech Best of Benzinga
View Comments and Join the Discussion!