Top Gaming Analyst Previews Electronic Arts, Take-Two & Activision Before Earnings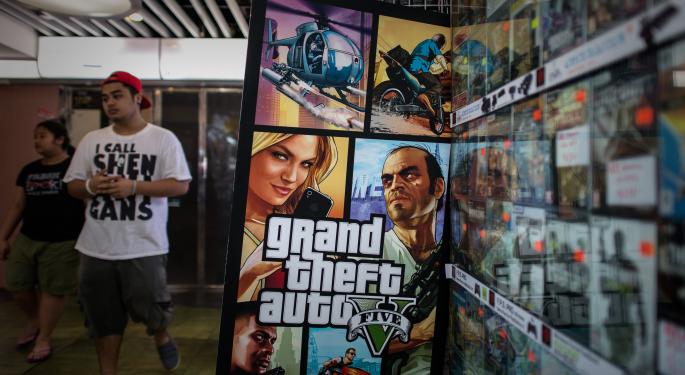 Leading gaming publishers, Activision Blizzard, Inc. (NASDAQ: ATVI), Electronic Arts Inc. (NASDAQ: EA) and Take-Two Interactive Software, Inc. (NASDAQ: TTWO) are set to report quarterly results.
Here is what one of Wall Street's top gaming analysts, Todd Mitchell of Brean Capital, is expecting for the quarter.
Strong Industry Fundamentals Support Activision
Mitchell noted that Activision has previously issued first quarter guidance that will prove to be "overly conservative" due to strong long-tail sales for their "AAA" (large budget, high quality) first-person shooter franchises and higher digital revenue from "World of Warcraft" and Blizzard's F2P (free-to-play) titles.
Mitchell added that strong console sales in the quarter support industry fundamentals. The analyst estimated 3.5 million PlayStation 4 and Xbox One consoles were shipped during the first quarter – a trend that boosted Activision's "AAA" franchise with high-attach rates.
Finally, the analyst argued current-gen players are shifting "rapidly" towards full-game downloads, which rose "sharply" during the first quarter in the absence of any significant retail promotions. As a result, the trend is likely to continue and translate to upside in the company's guidance for the March quarter.
Activision will report its first quarter 2015 results on Wednesday, May 6, after market close.
Shares remain Buy rated with an unchanged $27 price target.
Electronic Arts Still Has Momentum, But Shares Are 'Toppy'
According to Mitchell, Electronic Arts will likely report upside to its prior guidance given strong attach rates on "FIFA" and higher digital revenue.
The analyst noted that Electronic Arts faces a tough comp against "Titanfall" and "Battlefield 4" in the prior year, but the company should narrow the gap through an estimated $104 million in "Ultimate Team" DLC revenue from the EA Sports title.
Mitchell also added that EA's "Battlefield" franchise now holds more inherent risk than Activision Blizzard's "Call of Duty" given that the two most recent "Battlefield" titles were the weakest in the franchise's history. Moreover, the analyst argued that "Ultimate Team" may be "getting ahead of itself."
Bottom line, Mitchell stated that there are no catalysts for the franchise over the next couple of years, while average revenue per user levels are at the high-end for console titles with little visibility into how the company can grow the metric further. Despite expectations for a strong quarter, the analyst suggested investors look for a pull-back in the stock before being more aggressive.
EA will report its fourth quarter 2015 results on Tuesday, May 5, after market close.
Shares remain Buy rated with an unchanged $61 price target.
Better Than Expected GTA V Sales To Boost Take-Two
According to Mitchell, Take-Two is likely to report upside to its guidance and consensus estimates, reflecting a better-than-expected long-tail sales for "Grand Theft Auto V" and associated DLC revenue. The analyst added that continued strong attach rates to current-gen consoles for "GTA V" implies the trend is likely to continue into fiscal 2016.
Mitchell said he has above consensus expectations for fiscal 2016 and top-line growth will be "underpinned" by continued strong sales of "GTA V," recurring digital revenue, while a potential release of a new Rockstar title in the second half of the fiscal year remains a "wildcard."
Take-Two will report its fourth quarter 2015 results on Monday, May 11, after market close.
Shares remain Buy rated with an unchanged $35 price target.
Posted-In: Activision Blizzard Battlefield Brean Capital Call of DutyAnalyst Color Previews Analyst Ratings Trading Ideas Best of Benzinga
View Comments and Join the Discussion!