By 2016, All Solar Investors Will Know The Name '8point3'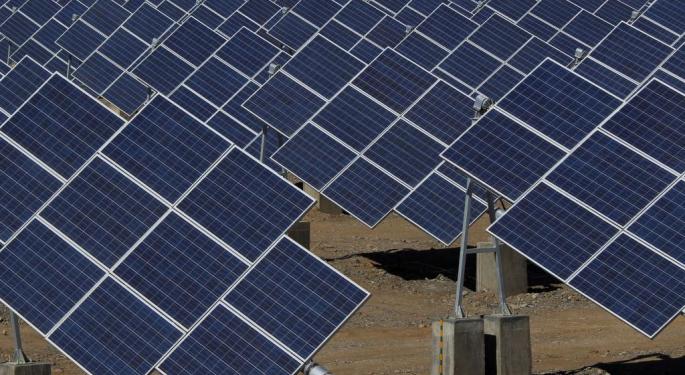 On April 8, FBR & Co. published a research note, "First Look at 8point3 and Implications of Successful Yield Company Launch," specifically as it relates to the valuation of First Solar, Inc. (NASDAQ: FSLR).
However, 8point3 Holdings Company, LLC is a 50/50 Yieldco to be jointly owned and operated by First Solar and SunPower Corp. (NASDAQ: SPWR).
FBR's analysis makes it abundantly clear that this Yieldco could have a significant impact on both earnings per share (EPS) and valuation moving forward into 2017.
Related Link: 5 Questions First Solar And SunPower Investors Should Ask About The Coming YieldCo
FBR - No PT Change
Currently FBR is maintaining its $55 price target and Market Perform rating for First Solar, in part because there are many assumptions required to be made when modeling the potential impact of 8point3 on First Solar, creating a wide range of outcomes.
Tale Of The Tape - First Solar Spiked On Yieldco Announcement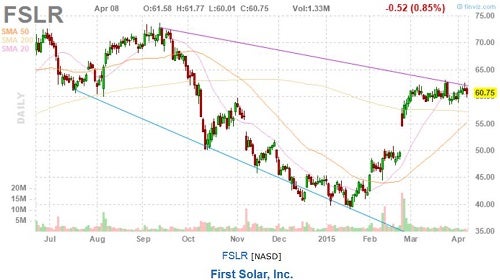 However, depending upon how many projects are added to 8point3 in addition to an initial 430 MW, plus 1.1 GW of pipeline projects where the Yieldco has a right of first offer (ROFO), FBR could realistically see future valuations of $70 to $80 per share.
FBR - 8point3 Model Assumptions
Consistent with other industry Yieldcos, FBR assumes that 8point3 will pay out 85 percent of cash available for distribution (CAFD) as dividends.
FBR assumes that 100 percent of identified projects in the ROFO pipeline will drop down to 8point3.
FBR sees this resulting in CAFD between $122 million to $191 million; implying a dividend payout in the range of $104 million to 163 million.
The FBR base case assumes a total portfolio size of 1.4 GW by 2017, comprised of both utility scale assets and distributed solar systems, predominately located in the U.S.
FBR - 8point3 Yieldco Ownership Assumptions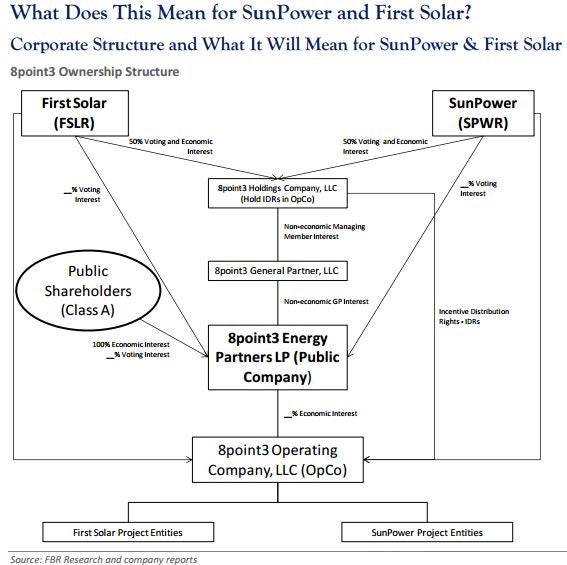 FBR assumed post-IPO "a 30%/30%/40% split among SPWR, FSLR, and public shareholders, respectively."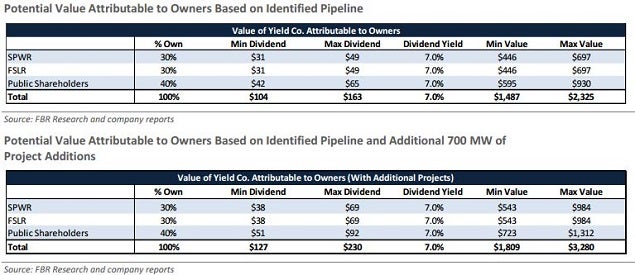 Based on this ownership split, FBR's CAFD generation estimates, and a dividend yield of 7 percent, FBR estimates that "the value attributable to First Solar and SunPower individually will be between $543 million and $984 million."
However, based only the disclosed ROFO pipeline of projects, FBR believes that "the value attributable would be meaningfully lower, between $446 million and $697 million."
FBR - First Solar Valuation Highlights
FBR chose to base its valuations on 2017, where First Solar receives the benefit of "strong free cash flow generation from the existing large utility-scale pipeline in the U.S."
FBR Current Valuation: The FBR $55 PT is based upon its "2017 EBITDA estimate of about $574 million by applying an 8x EBITDA multiple and discounting the resultant price target at a 12% COE" (cost of equity).
Most Likely Case: FBR feels that "8point3 could be worth ~$5–$10 per share to First Solar. The resulting upside scenario for First Solar is a valuation range of $69–$74 per share, which gives the company ample benefit for cash generation and moderate gross margin compression."
Blue Sky Case: FBR's blue sky scenario, where "8point3 reaches a portfolio size of 3.0 GW by 2017, assumes better disclosure from the parents, and results in a valuation range of $72–$80 per share."
Notably, the FBR 26-page research report contained additional exhibits, information and clarifications regarding the logic and risks regarding these scenarios.
View Comments and Join the Discussion!
Posted-In: 8point3 FBR & Co. YieldCoAnalyst Color Price Target Commodities IPOs Analyst Ratings Best of Benzinga