The 3 Biggest Questions Facing Walgreens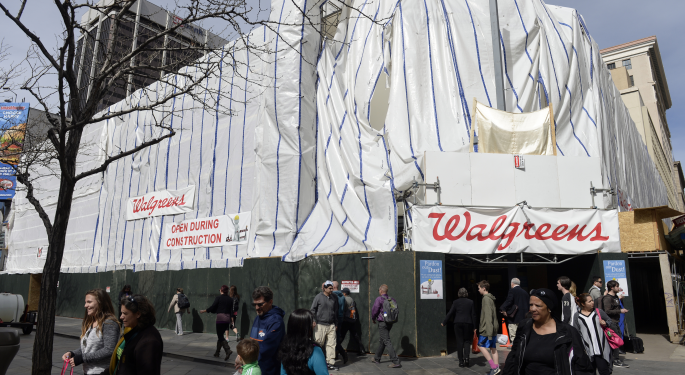 In a report published Tuesday, UBS analyst Steven Valiquette offered three important questions Walgreens Boots Alliance Inc (NASDAQ: WBA) investors should be aware of ahead of the company's analyst meeting on April 15-16.
How Can Management Expand U.S. Margins In Current Environment?
Valiquette noted that some investors have suggested that the majority of peers in comparable retail businesses have struggled to expand margins in a difficult operating and pricing environment in the U.S. over the past few years.
The analyst said this is not necessarily true as several companies in various comparable subsectors have captured operating margin expansion over the past few years, such as Rite Aid Corporation (NYSE: RAD) that improved its margins from 0.7 percent in calendar year 2007 to 3.0 percent in calendar year 2014.
Moreover, Stefano Pessina took over management of Boots retail pharmacies in 2007, he was able to generate significant margin expansion in a time period when its closest competitor (Lloyd's) was seeing "significant" margin compression. The analyst noted that this proved management is capable of achieving margin expansion even in difficult operating conditions.
What Accounts For Current Walgreens Margin Spread Versus CVS?
According to Valiquette's analysis, the current EBIT margin spread between Walgreens' U.S. operations and CVS Health Corp (NYSE: CVS) is 300 to 400 basis points. The analyst added that it is "less than perfectly clear" why CVS' retail is superior to Walgreens given the similar mix of front-end sales versus pharmacy sales.
One possible theory is that CVS has a much more mature loyalty card offering that yields superior returns, while Walgreens is still in the investment stage of its loyalty card program.
Both companies are likely to achieve 35 to 40 percent gross margins on front-end sales, and 18 to 20 percent gross margins on pharmacy sales. As such, the analyst concluded that the difference between the two companies can be explained by operating costs in the SG&A line as opposed to gross margin discrepancies.
Could Foreign Exchange Serve As A Headwind This Year?
Valiquette noted that he is expecting only minor changes to Walgreen's already established fiscal 2015 and fiscal 2016 guidance metrics. One of the reasons why this may be capped is the currency translation of Alliance Boots results from British pounds into U.S. dollar which has strengthened "materially" versus virtually all global currencies.
However, Valiquette noted that most of the stocks under his coverage have faced these headwinds and have been resilient. As such, shares of Walgreens are not expected to retreat around the analyst meeting if the topic of foreign exchange becomes a focal point.
Analyst Rating
Shares of Walgreen remain Buy rated with an unchanged $90 price target.
Posted-In: Boots drug stores Lloyd's Pharmacy StoresAnalyst Color Previews Analyst Ratings Trading Ideas Best of Benzinga
View Comments and Join the Discussion!