Why GoDaddy Is The 'Anti-Twitter'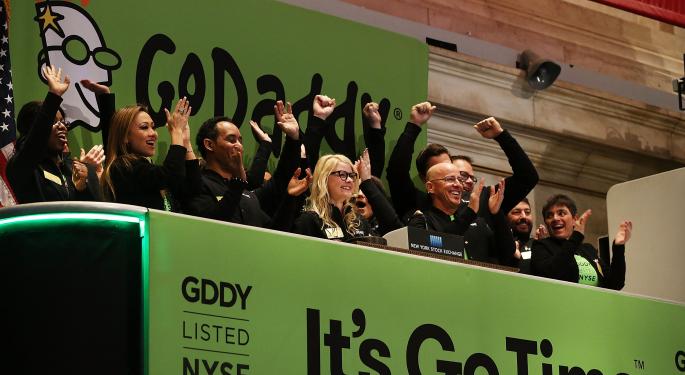 Shares of GoDaddy Inc (NYSE: GDDY) jumped 30 percent after the company had its initial public offering Wednesday, prompting some investors to ask a simple question: why?
Is this the dot-com superstar investors have been craving, or is this proof that the perceived tech bubble is real?
Sean Udall, CIO of Quantum Trading Strategies and author of The TechStrat Report, doesn't think there could be a tech bubble when Apple Inc. (NASDAQ: AAPL) "basically still trades at a 30 percent discount to the S&P 500."
"GoDaddy is sort of the anti-Twitter," Udall told Benzinga. "GoDaddy is sort of the anti-high-growth [company]. You know, doing an IPO to put a bunch of net cash on your books and then you're gonna use that net cash to grow for another two years while you get to a point where you're cash flow break-even. GoDaddy is none of those things."
If tech was in a bubble, Udall believes that investors would be "gobbling up shares" of GSV Capital Corp (NASDAQ: GSVC) at a "huge premium."
"Everyone would know GSV, everyone would be citing their portfolio, and everyone would be buying it…because they own a bunch of companies that are gonna go public," said Udall.
Related Link: How To Get A Piece Of Lyft, Spotify, Dropbox And Other Startups Before Their IPOs
'Froth And Frenzy'
Jason Whitmire, a partner at Earlybird Venture Capital, told Benzinga that there's a lot of "froth and frenzy" in the market.
"When you see the valuations companies like Uber are getting, it's almost hard to justify," said Whitmire. "But at the same time, if you look at a lot of the underlying portfolios of -- I would call it the engines behind these companies, at VC firms -- you will find probably three times the amount of companies that are in, I'd say, double-digit or triple-digit million revenue growth with an outlook of profitability. That's way different than the way things were 15 years ago."
Valuations Nowhere Near 'Craziness' Of '99
Tim Anderson, managing director for MND Partners and a floor trader at the New York Stock Exchange, told Benzinga that the "valuations for emerging tech, even biotech, are nowhere near the craziness of 1998, '99 and into 2000."
"I think the potential for the bubble in private equity and/or venture capital comes, ironically, from their diversification model," said Anderson. "If a private equity fund has massive [dollars] spread among hundreds of investments, they can lose everything on 15 to 20 investments. But if they have three or four that hit, each of those may be a 20x, 50x, or even 100x bigger, or even more! Under that scenario, they're net ahead of the game."
Whitmire thinks the fundamentals are much healthier but noted the problems at the top-end.
"I think if you were to shave that piece off, you'd have a pretty healthy, sustainable cohort of some pretty kick-butt companies right across the spectrum," said Whitmire. "Uber and co. are more on the consumer side, but if you look at enterprise, big data -- look at a lot of the companies that have gone public and just look at their numbers. Companies like Splunk, Tableau, FireEye, all the way up to HubSpot -- all these companies are growing at phenomenal rates and it's just because there's more data, there's more stuff to analyze. We've only scratched the surface."
Brianna Valleskey contributed to this report.
Disclosure: At the time of this writing, Louis Bedigian had no position in the equities mentioned in this report.
Posted-In: Apple Earlybird Venture Capital GoDaddyAnalyst Color Top Stories Startups Exclusives Tech Best of Benzinga
View Comments and Join the Discussion!