Best Buy's Canadian Restructuring Is Worth It, Wall Street Says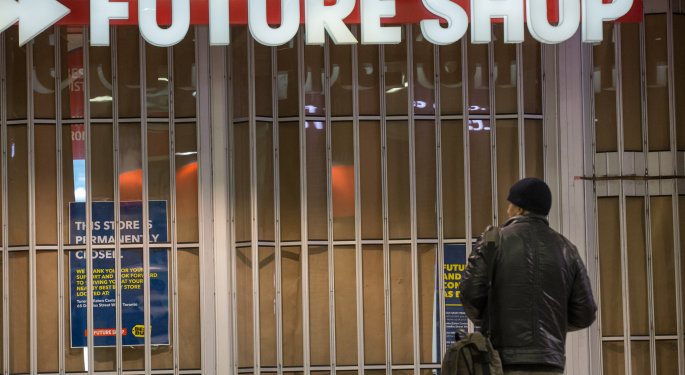 Wall Street analysts commented on the Best Buy Co Inc (NYSE: BBY) restructuring plans for its Canadian operations.
"Best Buy announced the closure of 66 Future Shop stores, and the transition of its remaining 65 Future Shop stores to the Best Buy brand. The 66 Future Shops were immediately closed, and the 65 stores to be transitioned will be temporarily closed for one week. Going forward, Best Buy will operate 192 locations in Canada, including the 136 large-format stores (71 existing Best Buy branded stores and 65 converted from Future Shops) and 56 existing Best Buy Mobile stores. As a result of the restructuring, headcount was reduced by 500 full-time and 1,000 part-time positions," according to Wedbush analyst Michael Pachter.
The plan was announced over the weekend and following Monday's open the stock traded at $38.96, up 1.25 percent.
Below are highlights from three analyst research notes on the plan along with current ratings and price targets.
Credit Suisse - Outperform, $45 price target
"We view the Canadian restructuring plan announced by BBY this weekend as a net positive for the company's struggling International segment. While the operating margin in the Domestic segment improved 95 basis points in 2014 thanks to management's initiatives, profitability in the International segment has continued to decline, and additional right-sizing actions were needed. There are upfront costs associated with these actions, causing us to lower our 2015 EPS estimate by $0.12 to $2.37, but we prefer taking a multi-quarter view of the unfolding transformation story."
Deutsche Bank - Buy, $44 price target
"We believe BBY's typical transfer rates in the U.S. are about 30 percent when a store is closed. But, we suspect it will be higher in Canada because the store overlap is much closer geographically. There may be some small negative impact from requiring consumers to switch brands, but consumer research shows very little difference in the brand equity of Best Buy versus Future Shop. If we assume that Canada big box stores make up 90 percent of the international revenues, which is in line with the square foot percentage, that implies the average big box does $19mm. Assuming 50 percent transfer rates, closing 66 stores will hurt sales by $625mm. But this should be offset by lower costs from operating fewer stores and efficiencies from operating one brand.
"Also, BBY will invest in Best Buy Canada, including adding appliances to the 71 Best Buy stores that currently don't carry that line. This could add perhaps $90mm in sales. There will also be benefits from investing in ship-from-store and other capabilities that have helped BBY domestically."
Wedbush - Neutral, $37 price target
"We believe that Best Buy management has made the best of a bad situation, and its near flawless execution has positioned the company to capitalize on environmental tailwinds throughout 2015. Therefore, we think that Best Buy shares are positioned to perform at least in line with the market as a whole this year. While we expect online competitors to continue to capture traffic at the expense of brick-and-mortar stores and expect Best Buy to suffer from declining customer traffic over the course of the year, it may gain some market share from several environmental tailwinds.Among these are the recent RadioShack bankruptcy, continuing troubles at competitor Sears and newfound disposable consumer income as a result of lower gasoline prices.
"Furthermore, we believe that the company's investment in FY:16 growth initiatives is prudent, and we expect these investments to position Best Buy to mitigate what we expect to be inevitable market share losses for the next several years. However, we think that the company has the potential to thrive in 2015."
Posted-In: Credit Suisse Deutsche Bank Michael Pachter WedbushAnalyst Color Analyst Ratings Trading Ideas Best of Benzinga
View Comments and Join the Discussion!