Intel-Altera Deal 'Makes Sense,' Intellectual Property Not 'Fairly Valued'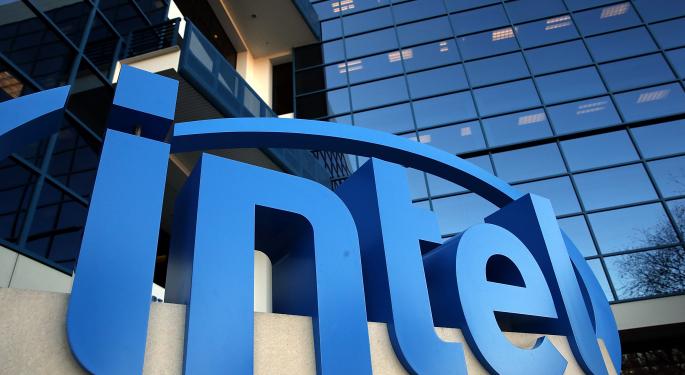 Altera Corporation (NASDAQ: ALTR) was halted briefly before the market close after a rumor claimed the company could be acquired by Intel Corporation (NASDAQ: INTC).
Altera ultimately closed up 28.39 percent. Intel was up 6.38 percent at the market close. Both firms have since declined less than 1 percent in after-hours trading.
Global Equities Research analyst Trip Chowdhry told Benzinga that the merger might make sense because the semiconductor industry is "going to a phase where intellectual property is not being fairly valued."
See Also: Report: Intel In Talk To Buy Altera
"Designing the chip, which is the heart of anything you do in a digital economy, that is the most complex part," said Chowdhry. "But the intellectual property is not being respected at all. That is a problem in the industry. [Apps are] getting more value."
Chowdhry speculated that the mobile first companies -- startups like Uber and Airbnb, which don't have any patents and invest in software development -- will disappear.
"If you think about companies like Uber, Airbnb, you see so much hot air in the industry without any intellectual property in the companies," said Chowdhry. "But if you look at what those things are built on top of -- semiconductor [technology], which is very complex and highly innovative -- but the innovation value is not being rewarded. It's not being fairly valued."
Consequently, Chowdhry thinks the only way the semiconductor industry can survive is through consolidation.
"When that happens, then the number of players will get reduced," he said. "Hopefully these companies, like Intel and others, can emphasize their patents and valuation."
Chowdhry scoffed at companies like Xiaomi, which has copied the likes of GoPro Inc (NASDAQ: GPRO) and Apple Inc. (NASDAQ: AAPL) without owning any patents.
Thus, Chowdhry believes this merger is "being driven more by the fact that the intellectual property is not being fairly valued."
"These are the building blocks of the company that Airbnb and others can build on -- companies that have zero intellectual property, zero innovation, are being valued at [$20] billion," Chowdhry added. "But companies like Intel, which are the heart of the whole industry, their intellectual property rights have been pretty much reduced to zero."
Chowdhry referred to the "Ubers" of the world as "bubbly" companies.
"When the bubble bursts, those companies are all going to disappear," he warned. "Even though they are providing innovation, the valuation of the innovation without any intellectual property in it [is a problem]. That's why Altera joining hands with Intel makes sense. That is the only way they can consolidate the power of the patents."
Disclosure: At the time of this writing, Louis Bedigian had no position in the equities mentioned in this report.
Posted-In: Airbnb Trip Chowdhry UberAnalyst Color M&A Analyst Ratings Best of Benzinga
View Comments and Join the Discussion!