Tesla's 'Computer On Wheels' Will Steer Itself, Come To Your Location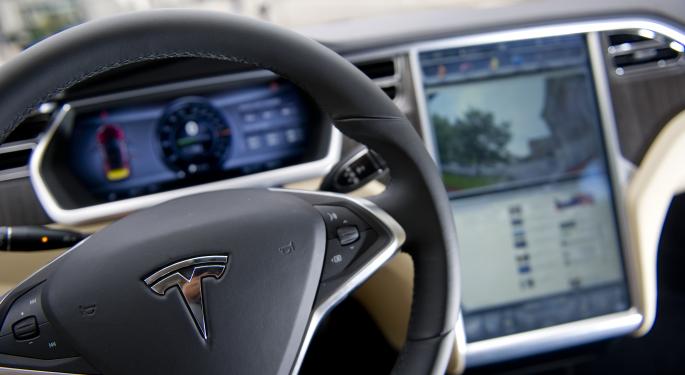 Tesla Motors Inc (NASDAQ: TSLA) wants to improve the quality of its existing automobiles with new software updates. Global Equities Research analyst Trip Chowdhry believes the most significant update will come in just three months.
"If you're standing outside, you can press the button on your smartphone and the car will back up and come right in front of you," Chowdhry told Benzinga. "Or you can automatically send the car back to its parking spot in the garage. It will automatically open the garage door itself and close the garage."
Chowdhry said these features will arrive with the Version 7 software update. Auto-steering will also be included.
"You can steer on private streets almost in a driverless mode, on private roads, with speed less than 30 miles per hour," he said.
Auto-steering could also come in handy for long car trips.
"CEO Elon Musk mentioned that the car can go from Seattle to San Francisco almost in autopilot mode," said Chowdhry. "Think about one thing that was mentioned -- it is more or less a computer on wheels."
Related Link: Tesla Range Anxiety Conference: A Play-By-Play Recap
Solved With Software
Before Version 7 arrives, Tesla is offering the 6.2 update to deal with range anxiety. Chowdhry was impressed by the fact that Tesla solved this issue with software instead of hardware.
"When they were thinking about range anxiety, the response was an application/software [update], which was the technology response that we were expecting," he said. "When you fly a private plane or whatever, you always keep getting feedback on what is your range. Are you beyond range or do you have to land? The idea of this 6.2 update is, when you sit in the car, it tells you if you are in range of the Supercharger. If you are getting out of range, it will tell you so you either change your route or go to a Supercharger."
Chowdhry said Tesla will provide drivers with the best route so they never get out of range. He believes that the application will take the "complexity" out of this problem.
"Range anxiety has been reversed by an application, not by a technology breakthrough," he added. "The first application tells you yes, you are within range. The second optimizes your travel."
Disclosure: At the time of this writing, Louis Bedigian had no position in the equities mentioned in this report.
Posted-In: Global Equities Research Model S TeslaAnalyst Color Top Stories Exclusives Analyst Ratings Tech Best of Benzinga
View Comments and Join the Discussion!