EXCLUSIVE: Peter Schiff Says QE4 Is 'Where We Are Headed'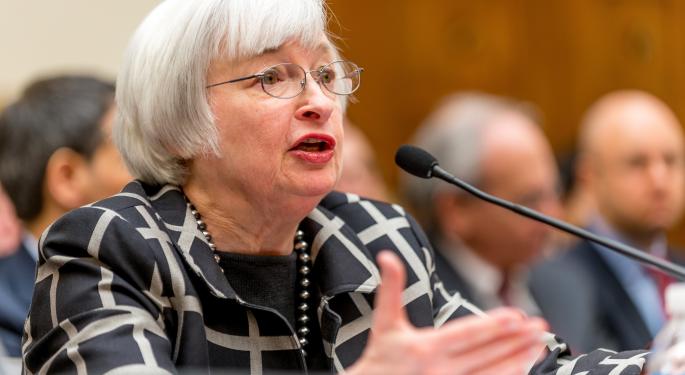 Speaking to Benzinga, Euro Pacific Capital CEO Peter Schiff said that he thinks it is "more likely than not" that the Fed will remove the word "patient" from its commentary on Wednesday afternoon -– but it is not a sure thing.
"If they remove it," he said, "they may try to re-insert some other kind of language to suggest they will be just as patient without the word being there."
"The reality is the Fed is not intending to raise rates –- not because they don't want to, but because they can't," Schiff explained.
Schiff added that raising rates may create a new financial crisis.
The Fed, he said, needs to continue giving the impression it has an "exit strategy" and Wall Street is expecting the strategy involves the removal of the word "patient" –- implying a rate hike decision is closer now than it has been in the past.
Related Link: FOMC Preview: What 2 Wall Street Pros Are Watching
Schiff continued that he "doesn't care what they say," as the economy is "already rapidly decelerating" and is on the verge of a "cusp of a recession." The Fed "won't kick us over the edge" by introducing a rate hike, he added.
His conclusion: The Fed is simply "buying time," and QE4 is "where we are headed."
"Everybody is operating on this false premise that we have a legitimate recovery and the Fed is going to raise rates," Schiff said. "In fact, we have a bubble and not only will the Fed not raise rates, they will blow more air in the form of QE4."
Fed Decision Not Necessarily Data Dependent
Schiff suggested that the data the Fed is analyzing doesn't dictate rate decisions. He continued that the employment rate and non-fall payrolls are the only "strong" data points –- the rest are "weak." However, even the "strong" data could be misleading.
Schiff noted that a reason for low unemployment is because so many people have left the labor force and settled for part time jobs when they really want full time jobs.
"A lot of people have two [part-time] jobs, but they only want one [full-time] job," Schiff said.
He added that at some point this year, the economy will begin shedding jobs. A lot of people were hired last year based on the expectation of a recovery that "is not going to materialize," he said.
Schiff cited rising inventory levels at many companies as proof a recovery has yet to materialize, as companies are left with excess inventory they can't sell.
Yellen Is Bluffing
Schiff suggested that the Fed is "going to be forced" to prop the stock market (along with the real estate market) up. He added that "rates are at zero, all they have is to restart QE."
"The foreign exchange markets and the precious metals market -– that's where the action will be," Schiff said. "Everybody is pricing in a tighter Fed."
Schiff continued that the Fed may end up "doing QE more than Europe and Japan," and "if Janet Yellen doesn't take that word 'patient' out it will be very dollar bearish."
"Yellen is bluffing," Schiff said. "At some point –- what are they going to do? If they raise rates we are in recession. Big time. And then what they are going to do. If they cut back they will look really foolish."
Stop Supplying The Economy With More Drugs
Schiff said that the Fed is supplying "drugs" to the market to make market participants and the economy "feel good."
In the long run, the economy can rid itself of any dependence on "drugs" -- naturally a painful task in the near-term.
"They have to raise interest rates dramatically, they are much too low," Schiff suggested. "And they have to start unloading their treasuries and mortgages. The problem is there are no buyers."
The real estate and stock market will "fall sharply" while the U.S. government will be forced to default on its bonds, banks will fail and there will be a big restructuring of the economy, he predicted.
However, Schiff said "all this needs to happen."
"We're trying to pretend we are solvent by keeping interest rates artificially low," Schiff concluded. "But that's worse than the problem."
Jayson Derrick and Brianna Valleskey contributed to this report.
View Comments and Join the Discussion!
Posted-In: Euro Pacific Capital Fed foreign exchange Interest RatesPreviews Economics Federal Reserve Trading Ideas Best of Benzinga