Rich Tullo Saw Cord-Cutting Rise 6 Months Before Nielsen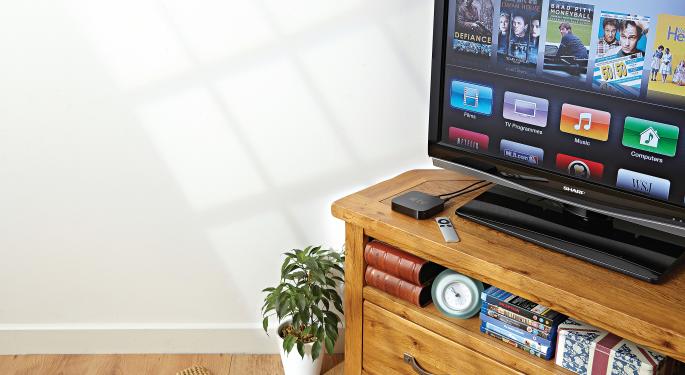 Albert Fried & Company Director of Research Rich Tullo was not surprised by the Washington Post's report that live TV viewing declined during the fourth quarter.
"I am glad that Nielsen and half the firms on Wall Street have finally caught on to what we've been saying all along and now have no reason to discredit us anymore," Tullo told Benzinga. "Six months ago we said there had been a fundamental shift in TV viewing of American families."
Tullo said he published his report half a dozen times but some people just wouldn't listen.
Related Link: Expert: Apple, HBO Partnership Is The Start Of Something Big
The Consumer Network
In the old days, a network could use its top shows to lure viewers to the rest of its lineup. NBC did this to great success in the 1990s with "Friends," "ER" and "Seinfeld." ABC did it in 2004 and 2005 with "Lost," "Desperate Housewives" and "Grey's Anatomy." CBS Corporation (NYSE: CBS) currently does it (to a point) with "NCIS" and "The Big Bang Theory." That is slowly beginning to change.
"The fundamental shift has been that people are no longer watching networks," said Tullo. "They're building their own TV schedule."
It's not even that consumers prefer to watch TV on their PC or mobile device. Tullo believes that they simply want the option to watch whatever, whenever. Now that they have that, appointment viewing has become less significant.
Ratings Fluctuations
There are exceptions, of course. "The Walking Dead" ratings often soar during the season premiere and season finale. Tullo said that these ratings are not actually higher than the rest of the season. Rather, consumers simply cannot wait to see the first and last episodes so they all tune in at once. During the rest of the season, many viewers will choose to watch the show at random intervals using AMC.com and on-demand cable options.
Related Link: Why HBO Now Is A Bad Idea
In the end, Tullo believes that the total viewership is the same. The episode simply dictates how and when people will tune in.
"The idea that it's important that 'The Walking Dead' has 20 million viewers on Sunday night is great, but that is just the outcome of all the people that have ever watched Walking Dead aggregating to Sunday night because now it's on the top of their list of things to right," said Tullo. "We've been saying that for six months."
AMC Networks Inc (NASDAQ: AMCX) has successfully used Netflix, Inc. (NASDAQ: NFLX) to improve the ratings of its shows, including "Mad Men."
Disclosure: At the time of this writing, Louis Bedigian had no position in the equities mentioned in this report.
View Comments and Join the Discussion!
Posted-In: Albert Fried & Company AMC CBSAnalyst Color Top Stories Exclusives Analyst Ratings Tech Best of Benzinga