How VR Could Bring A 'Massive Shift In How We Consume Entertainment'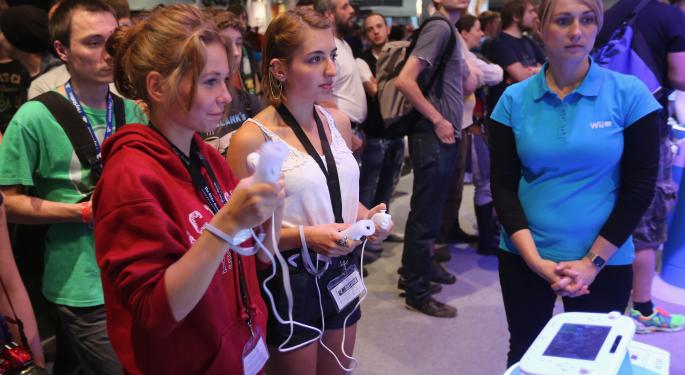 Virtual reality continues to pick up steam – especially now that Valve, the creator of the online game service Steam, has entered the fray. Benchmark analyst Michael Hickey thinks these companies could collectively bring about a revolution in entertainment consumption.
"We're sort of on the forefront of what could be a massive shift in how we consume entertainment, including games and probably movies and other forms of entertainment," Hickey told Benzinga. "I think when you experience a technology and you understand the depth of that experience, then it's sort of shocking compared to what we've had before."
Entertainment Platform Revolution On The Horizon
Hickey said there is a lot of belief that this could be the "beginning days of a massive entertainment platform revolution."
"Maybe it's an evolution," he said. "It's incredible. When you have Facebook sort of cement their belief in the opportunity by buying Oculus Rift and seeing this as an opportunity for billions – not millions – I think there's obviously some excitement, and they're going to map resources to that opportunity."
Facebook Inc (NASDAQ: FB) is among the many corporations that have invested in VR hardware and/or software.
Sean Udall, CIO of Quantum Trading Strategies and author of "The TechStrat Report," told Benzinga that there could be an "unbelievable surge in console gaming if consoles become the conduit that you hook your VR into."
He expects most VR headsets to require a powerful PC or game-dedicated device to power the realistic, high-resolution images that virtual reality promises to deliver.
"That will be. . . a huge tech boom, by the way," Udall added. "Whenever VR gaming takes off, forget about it!"
Related Link: Can Sony Steal Microsoft's Thunder With Virtual Reality?
Competition 'Drives Innovation'
Some critics have complained about the rising number of VR headsets that are being produced, but Hickey thinks that competition is good for the industry.
"It's good to see multiple competitors, obviously," he said. "I think that drives innovation and that helps drive some polish on the product that's necessary at this point."
Thus far, Sony Corp (ADR) (NYSE: SNE) and Valve (who teamed up with HTC) are the only fully established game developers that are working on their own VR headsets. Microsoft Corporation (NASDAQ: MSFT) took another route and decided to build an augmented reality headset called HoloLens. Nintendo Co., Ltd (ADR) (OTC: NTDOY) dabbled in VR more than two decades ago when it released the Virtual Boy, but it has given no indication that it wants to return to this market.
Related Link: Why Are Apple And Facebook Making Big Bets On Virtual Reality?
"I think the larger publishers are sort of hesitant to outlay too much, too fast, whereas they're probably better positioned to see who the winners are and try to attach to a larger installed base," said Hickey. "[But] you do have what appears to be a significant amount of developers lining up to try to create compelling experiences. The tech itself is fairly compelling. The world they create is very powerful."
VR And Gaming Craze
Udall expects VR to be the "next crazy wave of the gaming cycle."
"And when you want a game that you can put 20, 40, 60, 100 hours into, you need a complex controller," said Udall. "I think that's the biggest issue with touch screens. It only works with really simple games you're only going to play for a half-hour. Not that people haven't gotten addicted to Candy Crush."
Disclosure: At the time of this writing, Louis Bedigian had no position in the equities mentioned in this report.
View Comments and Join the Discussion!
Posted-In: HoloLens Michael Hickey Nintendo Oculus RiftAnalyst Color Exclusives Analyst Ratings Tech Best of Benzinga