Cantor Fitzgerald's Top 10 Internet Stock Themes In 2015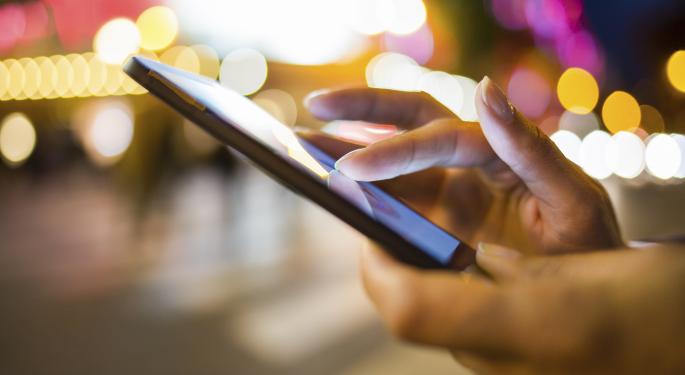 With its Second Annual Internet and Technology Conference being held in New York this week, Cantor Fitzgerald released a report summarizing its 2015 outlook for Internet stocks. The report included a list of the company's top 10 internet investing themes for 2015.
1. Mobile Extends Its Lead Over Desktop
Consumers spent more time online on mobile devices than desktop devices for the first time in 2014, and that trend will continue in 2015. According to the report, consumers spent 23.3 percent of their total media time on mobile devices in 2014, while mobile accounted for only 7.6 percent of total media ad spend for the year.
See Also: Cantor Fitzgerald's Top 3 Internet Stock Picks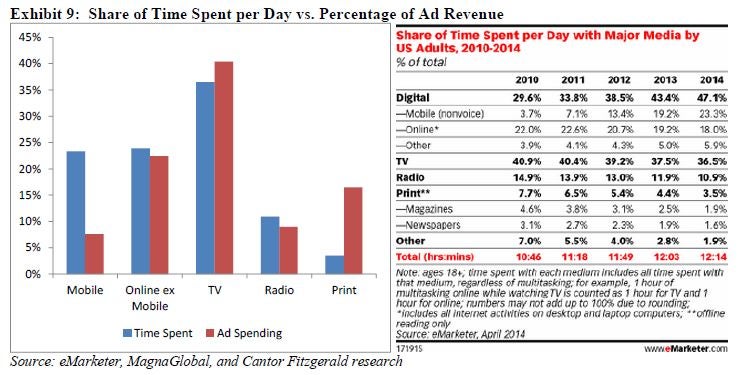 2. Programmatic Premium Ad Buying Changes The Advertising Game
According to the report, the total programmatic display advertising market in 2014 was about $10 billion, and it's expected to grow to about $15 billion in 2015. Analysts believe that Google Inc (NASDAQ: GOOG) (NASDAQ: GOOGL) and Facebook Inc (NASDAQ: FB) are best-positioned to capitalize on programmatic advertising.
3. TV Dollars Shift To Online Video
Users' demand for video content that can be accessed via multiple devices will continue to drive focus away from traditional television in 2015.
4. Google Loses Search Share
Yahoo! Inc.'s (NASDAQ: YHOO) search share steadily increased from 8.6 percent in November to 10.9 percent in January, while Google's share steadily declined from 77.4 percent to 74.8 percent during that stretch.
5. Mobile Commerce Bursts On The Scene
Leading e-commerce companies Amazon.com, Inc. (NASDAQ: AMZN), eBay Inc (NASDAQ: EBAY) and Apple Inc. (NASDAQ: AAPL) already see a large percentage of sales coming from mobile devices, and analysts expect that trend to continue in 2015.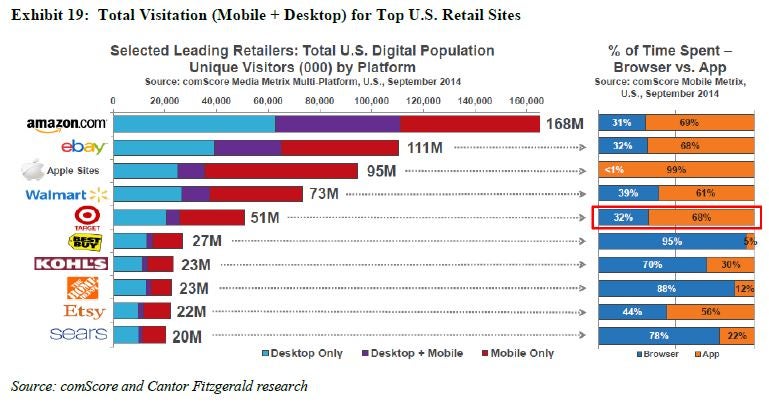 6. Free Shipping Becomes The Industry Standard
Amazon's Prime service is leading the way for all online retailers to eventually offer free shipping to customers.
7. Omni-Channel Commerce Will Either Save Incumbent Retailers Or Lead To Their Demise
While traditional on-site retailers such as Wal-Mart Stores, Inc. (NYSE: WMT) and Best Buy Co Inc (NYSE: BBY) have been capable of adapting to the world of online sales, whether or not these two names and others in the space have done enough to save themselves from becoming obsolete remains to be seen.
8. The Government Will Address Taxes On Foreign Profits
With the majority of the $150 billion in cash that Internet stocks collectively hold on their balance sheets currently invested overseas to avoid U.S. taxes, analysts predict that new tax laws favoring domestic investment are on the horizon.
9. The Sharing Economy Will Continue To Rise
Analysts see a continuing trend toward resource sharing/renting rather than ownership. Owners profit off of lending unused equipment, cash or other resources, and borrowers are spared the expense of purchasing the resources outright.
10. Net Neutrality Debate Takes Center Stage
Netflix Inc (NASDAQ: NFLX), Google and Facebook would all benefit from the maintenance of net neutrality, the idea that Internet service providers should continue to provide equal access to all Internet content regardless of its source.
View Comments and Join the Discussion!
Posted-In: Cantor FitzgeraldAnalyst Color Long Ideas Analyst Ratings Tech Trading Ideas Best of Benzinga