Citigroup: BlackBerry Won't 'Go For The Gold' In Fiscal 2016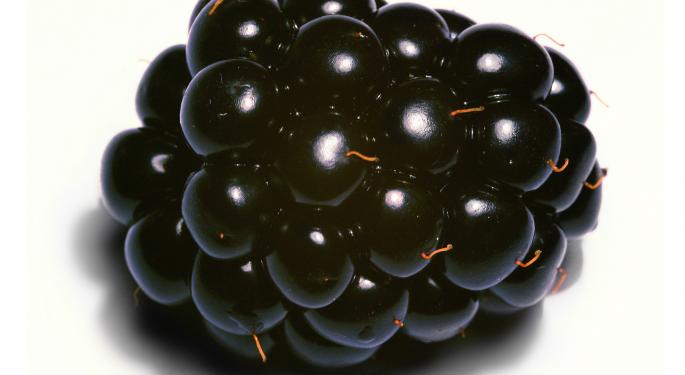 Ehud Gelblum of Citigroup on Tuesday lowered BlackBerry Ltd's (NASDAQ: BBRY) February quarter estimates based on lower device shipments. At the same time, the analyst's fiscal 2016 is "not enough likely to go for the gold" as it factors in a slower ramp of Software revenues.
Gelblum expects BlackBerry to report Hardware and Device revenue of $213 million for its February quarter. The figure marks a 41 percent quarter-over-quarter (1.1 million units) decrease from prior estimates of $493 million.
Gelblum notes that a portion of the original EZ-Pass Silver licenses will upgrade to the more expensive Gold level of the course of the year, a detailed model leads the analyst to conclude that it would require 40 percent of the original licenses to go for Gold for BlackBerry to reach a $500 million target.
"With the Passport still in short supply, and we believe destined to be a modest volume device, the Classic just beginning to ramp in January and not yet at stores, and shipments of Z10s, Z30s, Q10s and Q5s all but finished, we expect low average selling price Z3s and remaining BB7 Bolds and Curves to make up the bulk of February quarter shipments," Gelblum wrote. As a result, for the full year fiscal 2016, Gelblum lowered revenue estimate to $3.22 billion from $3.24 billion.
Shares are Sell/High Risk rated with a $8 price target.
Shares recently traded at $10.05, down 1.8 percent.
Image credit: De-Okin, Wikimedia
Posted-In: BB7 BlackBerry Gold BES Blackberry BlackBerry SilverAnalyst Color Previews Analyst Ratings Trading Ideas Best of Benzinga
View Comments and Join the Discussion!