Bank Of America: Tanger Factory Outlets No Bargain
Regardless of the season or size of the wallet, a bargain is always appealing and nobody likes to pay more than something is worth.
That is the premise behind the success of $3.7 billion cap Tanger Factory Outlet Centers Inc. (NYSE: SKT), the only outlet mall pure-play in the REIT space. On January 8, Bank of America downgraded Tanger from Neutral to Underperform, with a $36 price target, representing a 7.8 percent downside from the previous close of $39.03.
Strong Business Fundamentals
Tanger has a spotless dividend record, having increased its annual dividend each year since its 1993 IPO.
Likewise, occupancy at Tanger Factory Outlets has never dipped below 95 percent since its IPO.
The company has one of the strongest balance sheets in the REIT industry with an investment grade rating of BBB+ from S&P.
Another 52-Week High
The entire REIT industry had a very strong 2014 , fueled in part by the decrease in interest rates and continued rebound of the U.S. economy.
Since the beginning of 2015, Tanger — like many REITs — has seen a boost from investors looking for a safe haven, and chasing yield. Tanger shares are already up more than 5 percent in 2015.
Related Link: High Yield REITs Show Strength As US 10 Yr Treasury Falls Below 2
Despite the Bank of America downgrade, Tanger hit a new 52-week high of $39.12 during trading on January 8 prior to closing the day down a few pennies at $38.85.
The Big Picture: Growth
Unlike its older and much larger cousin The Enclosed Regional Mall, new outlet malls continue to be built. The majority of outlet malls developed during the past 10 years have been by either Tanger or global mall giant $61 billion cap Simon Property Group Inc (NYSE: SPG).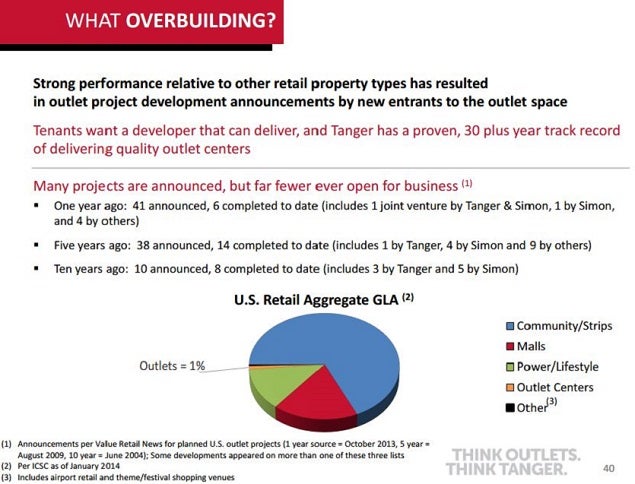 Back in July 2014, Tanger and Simon Property Group jointly opened a new 398,000 square feet outlet mall in Charlotte, North Carolina, which is owned on a 50/50 basis.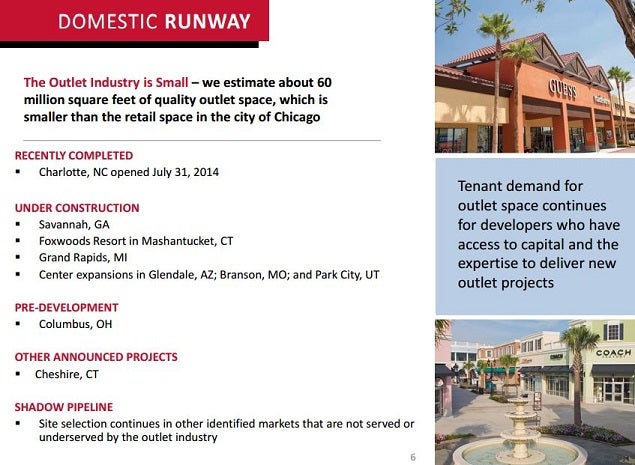 Tanger continues an active expansion program in Canada jointly with Canadian REIT RioCan handling the development and management and Tanger focused on marketing and leasing.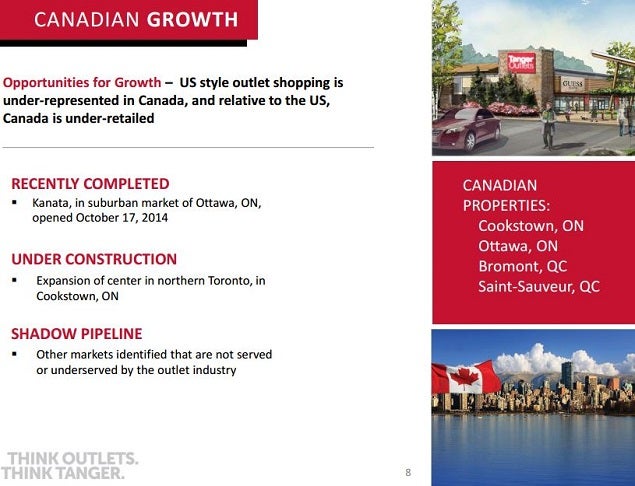 Tanger sees the potential to grow up to 10 Factory Outlets in Canada.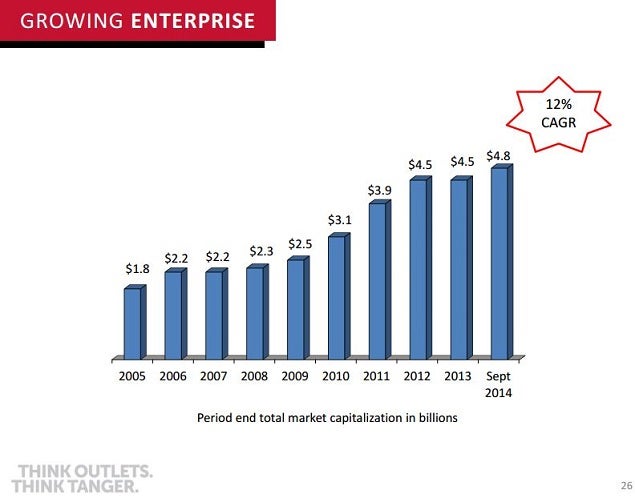 While Tanger's rate of growth has slowed considerably during the past couple of years, recent announcements appear to signal another upward leg is underway for the company.
What About The Internet?
The "tip of the iceberg" graphic above shows how focusing just on the rate of growth can be a bit deceiving — especially if Factory Outlet Malls feature the brands that consumers want to buy.
Bottom Line
Tanger Factory Outlets is doing a lot of things right. The Bank of America downgrade appears to be a valuation call, making Tanger somewhat a victim of its own recent success.
Investors interested in the only pure-play in the growing outlet mall space may want to pay close attention to the Tanger Q4 and FY 2014 results and FFO guidance for 2015. The company is scheduled to report earnings after the bell on February 10, with an earnings conference call the following morning at 10:00 a.m. EST.
Image credit: Ryan McKnight, Flickr
© 2021 Benzinga.com. Benzinga does not provide investment advice. All rights reserved.
---