Do The U.S. Markets Correlate With What's Happening In Japan?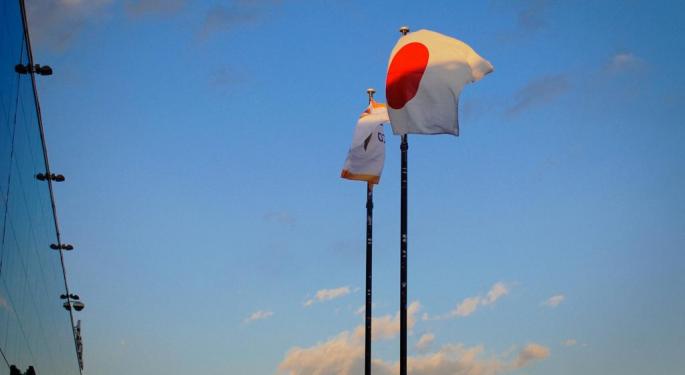 With Japan making big headlines these days, it's important to recognize what the actual prices of the country's publicly-traded companies are doing.
The economy and the stock market are two completely different things that are often compared -- Exhibit A of why it is crucial to separate the two from each other, particularly when Japan is concerned.
Completely Different Things
Last month, economic data came out signaling that Japan had once again fallen into a recession.
But on that very same day, the Japanese Nikkei 225 (INDEXNIKKEI:NI225) closed at the highest levels since 2007.
Again, the economy and the stock market are two completely different things.
In recent weeks, the Japanese yen has hit its lowest levels since 2007 relative to the U.S. Dollar; the negative correlation between the yen and the Nikkei is through the roof.
The Correlation Worth Watching
Worth noting is that one can also find a similar negative correlation between the yen and U.S. stocks, which have recently hit all-time highs when taking the S&P 500 (INDEXSP:.INX) and Dow Jones Industrial Average (INDEXDJX:.DJI) into account.
Related Link: What Morgan Stanley Is Watching In 2015
Investors can therefore find a positive correlation between the Japanese and US stock markets.
This is nothing new either. Over the last 20 years, from a structural perspective, Japanese and U.S. equities have mostly moved together.
Back in 2000, both the Nikkei and S&P 500 peaked in the Spring and once again peaked together in 2007.
Troughs came at similar periods as well, where both indices bottomed out in the spring of 2003 and 2009.
What To Watch Going Forward
Going forward, the yen will continue to be the big tell. At the moment, the negative correlations with the yen, Japanese and U.S. stocks have been extremely reliable.
Until that changes, analysts would be wise to continue to lean toward this.
Also worth pointing out: The rolling 20-week correlation coefficient between the Japanese Nikkei and the S&P 500 was recently 0.84 (which is very high).
Tags: Japan US correlation
Posted in: Analyst Color Markets Analyst Ratings Trading Ideas Best of Benzinga