Should Goldman Sachs Go Private?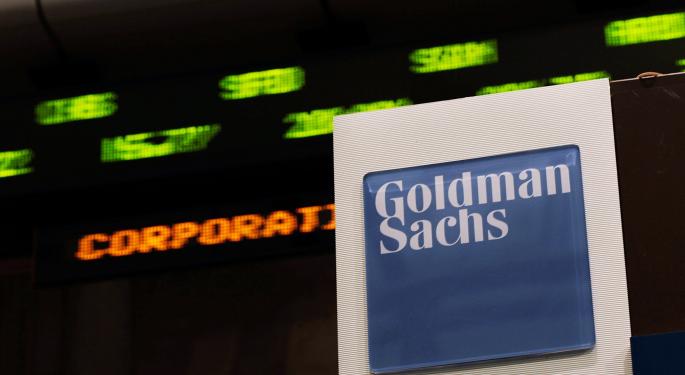 The rumor mill is generating a new round of commentary around the idea of Goldman Sachs Group Inc (NYSE: GS) going private.
Spin-Off Potential
In a conversation with Benzinga, Brean Capital's Peter Tchir said there is the potential for Goldman to spin off its investment banking unit.
Related Link: Goldman Sachs Looks Forward To 2015 With 10 Top Themes
Theoretically speaking, if Goldman were to go private and break away from its bank holding designation, the firm would stand to avoid the restrictions placed on banks trading and storing commodities, proprietary trading operations and lending operations.
The Other Side
Twitter, meanwhile, shed more light on the rumor.
Doug Kass of Seabreeze Partners Management shared his response to Tchir's thoughts:
@DougKass why nonsense? They could dominate fixed income spectacularly and have no depositor base to speak of

— Peter Tchir (@TFMkts) November 25, 2014
@TFMkts PT No way the Fed would support it. $GS

— Douglas Kass (@DougKass) November 25, 2014
@DougKass I have to think more about that - makes some sense but at same time fed has been trying to push "risky" biz out of banks..

— Peter Tchir (@TFMkts) November 25, 2014
@DougKass so $gs dropping the bank license would take risk our of bank system, and they would still be #tbtf under Dodd frank rules

— Peter Tchir (@TFMkts) November 25, 2014
@TFMkts @DougKass What Idiot would give up borrowing unlimited amounts of money from @federalreserve for .5%? Answer = NO ONE! #Dumb

— Coaches Hot Seat (@CoachesHotSeat) November 25, 2014
@CoachesHotSeat @DougKass @federalreserve they don't currently borrow from fed and plenty of people lend them money directly very cheaply

— Peter Tchir (@TFMkts) November 25, 2014
A Third Opinion
Anand Sanghvi, head trader and founder of Sang Lucci Trading, said the bank could "feed the risk to its traders."
As a trader of Goldman's common equity, he added that the prospect of the bank going private made him "super bullish" because of its gifted traders and near-standalone ecosystem.
Shares of Goldman Sachs are down 0.37 percent on Tuesday afternoon.
View Comments and Join the Discussion!
Posted-In: Analyst Color News Rumors Analyst Ratings Trading Ideas Best of Benzinga