This Top Retailer Is Up More Than 650% Without Tapping Its REIT Option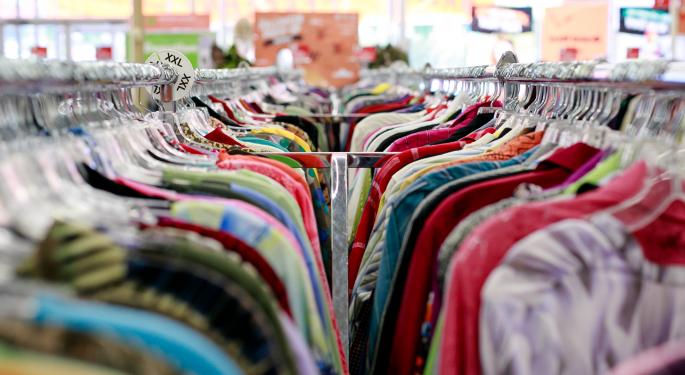 Little Rock, Arkansas-based Dillard's, Inc. (NYSE: DDS) has been a huge winner.
During the past five years, it has outperformed its larger Bentonville neighbor Wal-Mart Stores, Inc. (NYSE: WMT), as well as highly regarded department store peers Macy's, Inc. (NYSE: M), Nordstrom, Inc. (NYSE: JWN) and Target Corporation (NYSE: TGT).
Tale Of The Tape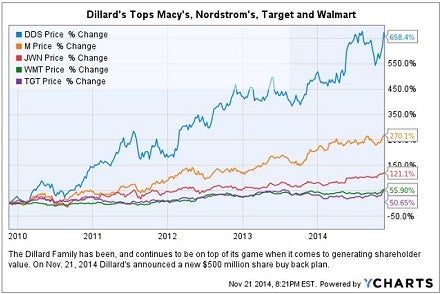 Dillard's shares have behaved more like an Internet growth stock than a brick-and-mortar department store chain.
Other Side Of The Tracks
Cash strapped and beleaguered Sears Holdings Corp (NASDAQ: SHLD) is hoping to pull off real estate alchemy by spinning out 200 to 300 of its owned stores into a REIT.
Sears Chairman and largest shareholder Eddie Lampert hopes that this move could provide the liquidity Sears needs to survive. It remains to be seen if this strategy can save the iconic retailer.
Related Link: Why Blackstone Group Spent $1.6 Billion In Asia
How About Dillard's?
Could Dillard's spinning out valuable retail real estate be a smart move? Possibly. The OpCo/PropCo structure suggested by 4.9 percent shareholder Marcato Capital Management in a recent presentation appeared to have some merit.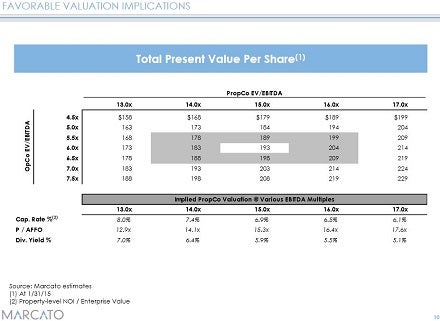 Based upon the $109 per share price when Marcato did its calculations, the $193 price point calculated as a mid-range case for an OpCo/REIT spin-out would represent a 77 percent increase in value.
Not So Fast
However, in a note on November 21, B of A/Merrill Lynch downgraded Dillard's from Buy to Hold with a $125 price target. Based upon its OpCo/PropCo estimate of $124 per share, the bank feels Dillard's is fairly valued. "We view a REIT conversion as unlikely and we see little room for further multiple expansion with shares trading near 6.5x F2015E EV/EBITDA," it wrote recently.
Dillard's Was Proactive
Did CEO William T. Dillard II need Marcato to point out that a REIT might be a way to enhance shareholder value? Probably not. Dillard's was way ahead of the pack here as well, evaluating liquidity options for its real estate portfolio coming out of the Great Recession.
Dillard's 2011 10-K Reveals REIT
"In January 2011," the company recently wrote, it "formed a wholly-owned subsidiary that will seek to operate as a real estate investment trust." It added: "We believe the formation of a REIT may enhance our ability to access debt or preferred stock and thereby enhance our liquidity. Operating subsidiaries of Dillard's have transferred certain real estate interests to the REIT."
Besides a bit of an accounting "dust up" regarding the deferred charge relating to the REIT transaction (where the IRS ruled in favor of Dillard's), there has been little or no mention of the REIT by Dillard management since its formation.
The Dillard's balance sheet in its most recent 10-K filing does have an "other assets" line item of $256 million, where $197.4 million of the deferred charge resides as of Feb. 1, 2014.
Dillard's Understands Real Estate
The company operates in two reportable segments: retail operations, which are 99 to 98 percent of revenue; and construction, good for 1 to 2 percent of revenue. It has chosen not to break out its small REIT as a separate operating segment.
During the past few years, Dillard's has created shareholder value by profitably selling non-core retail locations and mall JV interests. This has helped to balance out asset impairment and store closing charges that resulted from pruning less profitable locations.
What Does Dillard's Own?
As of February 1, the company operated 296 stores in 29 states containing 50.5 million square feet of assets, with 245 retail properties owned outright. Other notes include:
• 12 retail locations are owned on leased land, 32 are leased and seven are partially owned/partially leased.
• Six distribution centers totaling 2,620,000 square feet.
• Corporate offices totaling 330,000 SF.
• CDI Construction - offices 25,000 SF and storage 66,000 SF.
• Dillard's online sales were that were previously processed at a 285,000 SF Nashville, TN facility are now handled at its new 850,000 Internet fulfillment center in Maumelle, AR as of Q1 2012.
The largest concentrations of stores are located in Texas, Florida and Arizona containing 59, 42 and 17 respectively. The rest are distributed throughout the Southwest, Southeast and Midwest.
Bottom Line
Dillard's has a strong balance sheet with relatively little long-term debt. It also has a $1 billion line of credit to call upon if needed. Dillard's retains tremendous flexibility when it comes to deciding how to manage its profitable retail operations by maintaining ownership of its real estate assets.
If Dillard's management believes it makes sense, they have the option to contribute additional real estate assets to its existing REIT, or they can form a new REIT and spin it out to shareholders.
Dillard's announced on November 21 revealed its board had authorized a new $500 million stock buyback program. Shareholders in this top-performing retailer appear to be in good hands.
Posted-In: B of A Merrill LynchLong Ideas REIT Trading Ideas Real Estate Best of Benzinga
View Comments and Join the Discussion!