Jefferies On 3D Printing: 'More Entrants, More Problems… Eventually'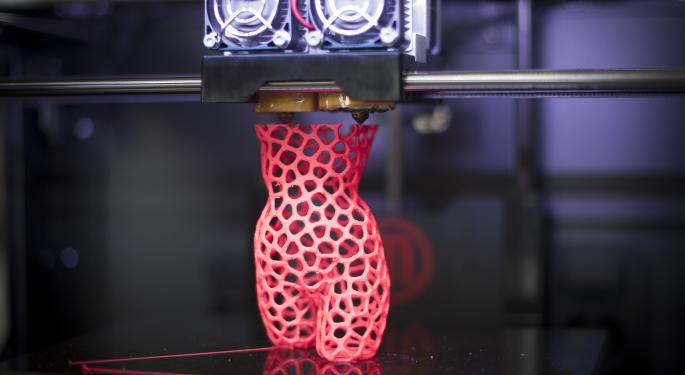 Jason North of Jefferies published a report on the 3D printing industry on Thursday. The analyst sees several new entrants planning to enter the space over the coming year, which may not bode well for the already established companies.
The analyst notes that Autodesk, Inc. (NASDAQ: ADSK), Hewlett-Packard Company (NYSE: HPQ), IPG Photonics Corporation (NASDAQ: IPGP), Canon Inc (ADR) (NYSE: CAJ) and many others are planning to introduce 3D printing devices to the market.
"After speaking to most of them, we think they could grow to become major 3D printing players but see little overall impact for the next two years," North wrote. The analyst adds that 3D Systems Corporation (NYSE: DDD) is "most exposed" to the new entrants and could be forced to respond by lowering prices.
According to North, Autodesk wants to position its Spark OS as the standard for 3D printing. However, the analyst notes that its initial impact will be on the low-end devices, and it will take time before gaining share on the service bureau floor.
Hewlett-Packard's technology is "interesting" and could be disruptive, according to North, who adds that details are still scarce and that materials development is "the key wildcard."
IPG Photonics is the largest maker of fiber lasers and already supplies almost all metal 3D printing manufacturers. The company already benefits from growth in the industry and is in the middle of developing a direct powder feed printer geared toward large parts. However, North isn't expecting a launch before 2017.
Canon and similar 2D printing companies could eventually leverage their printing experience to 3D, according to North. However, the analyst doesn't see Canon entering the market in the next four years.
Posted-In: 3D Printer 3D Printing Canon ipg photonics Jason NorthAnalyst Color Analyst Ratings Tech Best of Benzinga
View Comments and Join the Discussion!