iPhone 6 Vs. Entire Galaxy Line: Will Apple Win The Holidays?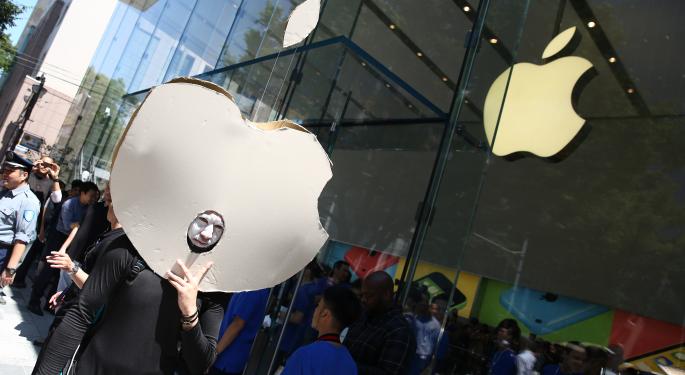 Apple Inc.'s (NASDAQ: AAPL) iPhone 6 and iPhone 6 Plus are going up against a large number of Samsung (OTC: SSNLF) devices, including the newly released Galaxy Note Edge.
The iPhone 6 has been very successful, but the 6 Plus' bendable body surprised consumers who expected Apple to produce a sturdier device. "Bendgate" isn't expected to hurt Apple this holiday season, but does that mean the company will come out on top?
"Right now [Apple's] manufacturing is limited," Rob Enderle, principal analyst at Enderle Group, told Benzinga. "They're selling every one they can make. From what I hear from the different carriers, wait times are up to six weeks [for an iPhone 6]. We're quickly getting to the point where we're done for sales for the year."
Related Link: 4.7 Million Reasons To Watch This Apple Pay Rewards Program
Enderle said that while Apple is limited by supply, Samsung is limited by demand.
"There's plenty of product in the market, [but] fewer people that want it," said Enderle. "It makes it kind of hard to determine who is going to win here. It would be an easy win for Apple if they weren't supply limited."
If the iPhone 6 is sold out, consumers could look elsewhere to get an item in time for Christmas, but that's not very likely.
"Apple is very unique this way," Enderle added. "When people ask for an iPhone, they want an iPhone. They may very well wait until [after Christmas] to get it."
More Of The Same?
Tech industry expert and analyst Jeff Kagan expects the sales trends to be in line with previous holiday shopping seasons.
"I think what we can expect this year is the same as we saw last year," Kagan told Benzinga. "And the year before -- and the year before [that]. I think both companies will be successful. I think everybody loves the 6 and 6 Plus and [Apple's] tablets and everything else. But… I don't think there's going to be any big surprises from these two companies. I think it's going to be more of the same."
Kagan said that Apple and Samsung could both benefit from an improved economy.
"I think the economics are a little better than last year," said Kagan. "Maybe people have more to spend. Gasoline costs less this year than last year. Maybe it will be a better year. I don't think it will be a worse year."
Related Link: What Do The iPhone 6 And P85D Have In Common?
Personalized Devices
Dan Miller, senior analyst and founder of Opus Research, thinks Apple has the edge this year.
"With Apple Pay and Touch ID, they're making a much more personalized device," Miller told Benzinga. "In a way there's a brilliance to just having the two models because it doesn't get divided across the manufacturers of every Android product out there."
Miller referred to himself as an "Apple fanboy." He said he lives in Apple's world of operating systems.
"I think clearly [the iPhone 6] has accomplished what Tim Cook was aiming for," said Miller. "I think features like Touch ID and Apple Pay -- and the incorporation of what I would call 'personal commerce infrastructure' -- that I think they're doing a better job of."
By using Android, Samsung may be at a disadvantage.
"Being an Android box, [this] is going to move over to Google," Miller concluded. "There's just no guarantee that they maintain even share of the whole Android community."
Disclosure: At the time of this writing, Louis Bedigian had no position in the equities mentioned in this report.
Posted-In: Apple Dan Miller Google iPhone 6 iPhone 6 PlusAnalyst Color Top Stories Tech Best of Benzinga
View Comments and Join the Discussion!