Will Amazon Ever Make A Profit?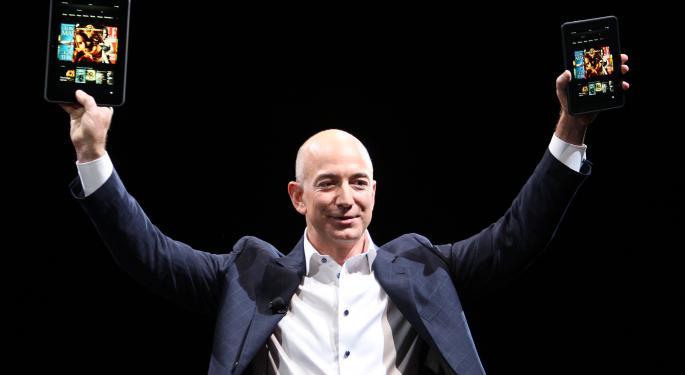 Amazon.com, Inc. (NASDAQ: AMZN) recently had another bad quarter and disappointed investors.
Can the company ever turn things around?
"The whole business model of not making money on the core delivery business -- I think that is gonna be a major problem," John Thompson, CEO and chief investment officer of Vilas Capital Management, told Benzinga.
Dan Miller, senior analyst and founder of Opus Research, told Benzinga that while investors can get impatient, they should realize that Amazon founder and CEO Jeff Bezos has never paid attention to the bottom line. "[It's] on a vision for e-commerce, not so much a vision for a profitable company," said Miller.
Global Equities Research analyst Trip Chowdhry only sees profitability from one source. "They can be profitable if they're focused on the right businesses," Chowdhry told Benzinga. "The only profitability I see is with AWS [Amazon Web Services]."
Related Link: Will Apple Inc., Others Thwart Amazon.com, Inc.'s Smart Home Plans?
Another Stab At TV Dominance
The TV-connected device market is still in its infancy, but Amazon has already entered the space with two separate products. The latest, Fire TV Stick, is a $39 HDMI stick that competes directly with Chromecast, which retails for just $35.
What does its quick arrival (Fire TV Stick arrived less than a year after the original Fire TV) say about the success of Amazon's initiative?
"It doesn't signal success or failure," said Miller. "Amazon, just by their investment policy, is in it for the long run. You're going to see a lot of introductions to both hardware and software and services that are consistent with this universal retailer vision of [Bezos]."
Chowdhry thinks that Amazon might be releasing more products to compensate for other issues within the overall business. "To offset that, they have to keep innovating on the digital front," Chowdhry explained. "Fire TV is probably in that direction. But I'm not hopeful of that product because it's a me-too product."
Related Link: Apple TV Vs. Android TV Vs. Fire TV Vs. PlayStation TV
Should AWS Split From Amazon.com?
Chowdhry's support for Amazon Web Services begs the question: Should AWS break away from Amazon.com? "I think Amazon has that plan," said Chowdhry. "I think within the next two to three years Amazon may spin off AWS as an IPO.
Amazon e-commerce could be a customer of AWS because Amazon.com runs on AWS. It makes sense but not now because it still needs to be incubated."
Tech industry expert and analyst Jeff Kagan isn't convinced that a spin-off will actually occur.
"It depends on who Amazon.com wants to please," Kagan told Benzinga. "Do they want to please the investor or do they want to please the marketplace and the customers? I think traditionally they wanted to please the marketplace and the customers. They've not really had the focus on the investor and the investor would invest and go along for the ride."
Based on that history, Kagan thinks Amazon will continue down the same path. "You have to remember, when you change a company to reward the investor, it often hurts the brand," Kagan added. "It often hurts the customer experience. Amazon.com wants to grow into the biggest, baddest company in every different sector it can get its hands into. And it's not going to do that by spinning parts off."
That said, Kagan acknowledged that AWS is not a retail business and could ultimately make sense as a separate entity -- but he still doesn't think it will be spun off.
Disclosure: At the time of this writing, Louis Bedigian had no position in the equities mentioned in this report.
View Comments and Join the Discussion!
Posted-In: Amazon Amazon Web Services Amazon.com AWS comments Dan MillerAnalyst Color Tech Best of Benzinga