Twitter Analyst Roundup On Q3 Report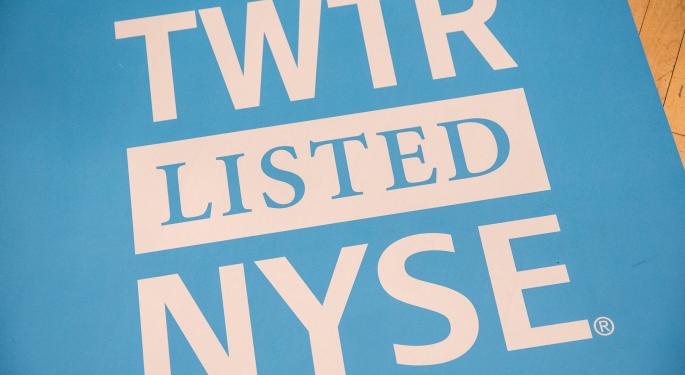 Twitter Inc. (NYSE: TWTR) reported 3Q 2014 results Monday and disappointed many investors with lower than expected growth in Monthly Active Users (MAUs).
Twitter Inc. fell sharply on the news, trading at $43.98 Tuesday afternoon, down 9.43 percent.
Below are rating changes with current price targets from analysts and comments in response to Twitter's 3Q report.
Nomura - Downgrade to Neutral, $45 price target
Twitter modestly missed our 3Q user growth and engagement metrics; while the 4Q outlook came in higher than our existing model, particularly on adjusted EBITDA, implied users for 4Q bring us to lower our year-end MAUs estimate, and we believe that user metrics will now take center stage. We retain our constructive view on monetization and margins, but move to the sidelines. FY 2014E EPS from $0.11 to $0.09; FY 2015E EPS from $0.37 to $0.31.
Wunderlich - Maintain Hold, $45 price target
MAUs (monthly active users) continue to be a concern, with the company adding 13 million in Q3, in line with consensus, but only implying growth of 6-7 million in Q4. The company has designs to address a much larger audience but we believe shares are close to fully valued at 13x EV/S on our FY15 estimate growing 62 percent Y/Y given the risk to grow and monetize those potential users and the decelerating revenue growth.
Stifel - Downgrade to Sell
Our near-term estimates rise as the company continues to better monetize its platform with the addition of new ad units and the expansion of its international sales effort. However, our long-term estimates decline materially as slower user growth coupled with potentially unsustainable growth in ad prices eventually leads to significantly lower revenue and earnings estimates. By 2024, our ad revenue estimate declines by $2B to $11.5B. We use a DCF approach to arrive at our $36 fair value, utilizing a perpetual growth rate of 4.5 percent and discount rate of 11.5 percent.
Cantor Fitzgerald - Maintain Buy, $58 target price
While management hinted at stabilization in user engagement in 4Q Y/Y, re-acceleration in this key metric is likely to take time as the company tries to influence it through improvements to the user experience and content, and by introducing new apps and services. Twitter continues to be under-monetized relative to peers, and with the potential to effectively target a massive base of non-loggedin users, we see meaningful upside potential over time.
SunTrust - Maintain Buy, $58 price target
1) Revenue and EBITDA beat while MAUs of 284M were inline once adjusted for 1-2M negative impact from authentication bug in Asia; 2) Guidance for 4Q is below consensus; CFO underscored that guidance is not overly conservative; 3) Implied MAUs for 4Q show ~5M net adds at the high end, below expectations; 4) Commentary and guidance "clean the decks" of consensus creep, creating a positive set up into Analyst day on Nov 12th that could provide more color on current trends as well as a vision and strategy for ~$10B in long term revenues.
Canaccord - Maintain Buy, $56 price target
An expensive valuation and still-shifting core metrics make tactical moves in the stock challenging. However, we continue to believe Twitter is early in monetizing its very large and growing user base. We look at volatility more as an opportunity, and look to the upcoming November analyst day for insight into metrics and strategy.
Citi - Maintain Neutral, $47 price target
While monetization gains remain robust, user growth and engagement improvement trended below the bull view and we continue to believe that many of the bull case assumptions are priced in at current levels.
Wedbush - Maintain Neutral, $40 price target
Twitter is in the early stages of ramping users and monetization. Since becoming public, we believe the company has done a remarkable job monetizing its user base. Our checks have indicated that the company is seeing increasing interest and participation from marketers, though volume spending is more likely to occur in the future. It appears that advertisers are still trying to figure out specific use cases for Twitter advertising, but noted a migration toward events and the second screen experience. We believe the company's continued innovation with ad units, targeting and measurement/analytics will help drive advertiser uptake.
JP Morgan - Maintain Overweight
TWTR's 3Q results & 4Q outlook were light relative to above-guidance expectations. With investor focus on users, MAU net adds of 13M Q/Q came in a couple million light vs. the Street and below our 17M, but were also impacted by 1-2M due to tighter authentication efforts in Asia.
Bank of America - Downgrade to Neutral, $50 price target
Our thesis on the stock was based on: 1) revenue upside from new ad formats, 2) improving MAU trends from product changes, and 3) opportunity to convert or monetize non-logged in users. Call commentary suggest that these opportunities still exist (11/12 analyst day will highlight opportunities), but 4Q guidance suggests the ramp will not be consistent and or as fast as we expected to drive stock higher near-term, and we have less confidence in the long-term MAU ramp.
Pacific Crest - Maintain Buy, $63 price target
Many saying Twitter is Over; we say just getting started. Fundamentals in the advertising business show that higher-priced ad units such app install ads and video is still in the early stages of growth. We think strong monetization can continue and there could be more upside, especially in the seasonally strong Q4, and that user trends are stronger than many believe.
Posted-In: Bank of America Canaccord Cantor Citi JP Morgan NomuraAnalyst Color Analyst Ratings Best of Benzinga
View Comments and Join the Discussion!