Intralinks' Deal Flow Predictor: Positive M&A Momentum Will Continue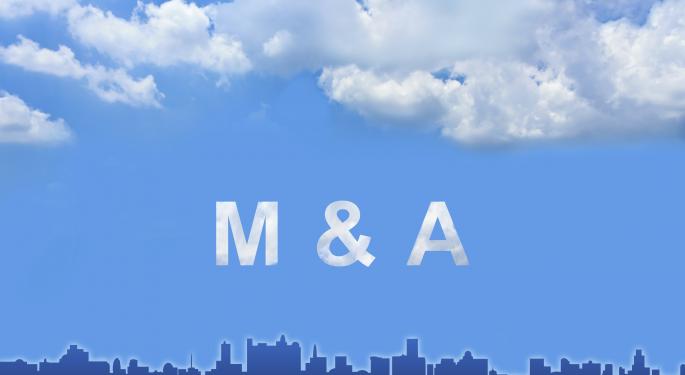 "We are consistently reading the headlines of significant sized deals getting done and the mid-market is humming as well."
So came word from Matt Porzio, vice president of M&A strategy and product marketing at Intralinks Holdings Inc (NYSE: IL) who spoke with Benzinga.
Q1 2015 And Beyond
Intralinks continues to predict that global announced M&A volumes for the full year of 2014 will increase between 7 and 11 percent compared to 2013. This bump would represent the first annual increase in the number of announced M&A deals since 2010.
Related Link: Intralinks Deal Flow Indicator Predicts Significant Increase In 2014 M&A Volume
Intralinks further predicts year-over-year M&A deal activity for Q1 2015 will increase more than 10 percent and lead to sustained momentum carrying into 2015, according to Porzio.
Porzio noted that while geopolitical and market volatility factors could eventually weigh on the M&A market, "Right now," he said, "they're showing no signs of doing that."
Deal Flow Predictor
The driver of all this data, Intralinks' Deal Flow Predictor, represents a name change for the former Intralinks Deal Flow Indicator. The name change, Porzio explained, provided Intralinks an opportunity to clarify the nature of the predictive nature of the data.
In addition, Intralinks wanted to concentrate on and draw attention to the use of its own predictive data and avoid confusion about data from other sources such as Thomson Reuters Corporation regarding announced deals.
DFP Helping Investors
Asked how information from Intralinks' Deal Flow Predictor might be useful to investors, Porzio suggested they could use DFP's data to zero in on both sectors and regions of strongest predicted M&A activity.
"For example," Porzio said, "we expect to see a good number of high profile deal announcements through early 2015, especially in sectors like TMT (Technology, Media and Telecoms), industrials and consumer.
"When you combine that with an understanding of where the regional pickup is, say APAC as an example … you get a sense of where the activity is and where some deals might happen."
"Clearly," Porzio cautioned, "you can't take that down to knowing exactly which targets are out there."
However, he added, investors could use DFP data to help them get a "sense that some of these might be acquisition plays."
Related Link: Online M&A Dealmaking Grows, Fueled By Intralinks DealNexus
Global Sentiment Survey
Porzio also suggested investors could utilize the data from Intralinks' Global Sentiment Survey of 700 M&A professionals to compare their own investments with global attitudes regarding acquisition strategy and effectiveness.
Questions to ask, he said, include "How do I value companies in my portfolio for their acquisition strategy?" and "Has the market expanded so much and valuations increased to the point I worry that (those companies) will over pay for assets?"
At the time of this writing, Jim Probasco had no position in any mentioned securities.
Posted-In: comments IntraLinks Holdings M&AM&A Education Trading Ideas Interview General Best of Benzinga
View Comments and Join the Discussion!