Hewlett-Packard Company Split Could Pressure IBM To Do The Same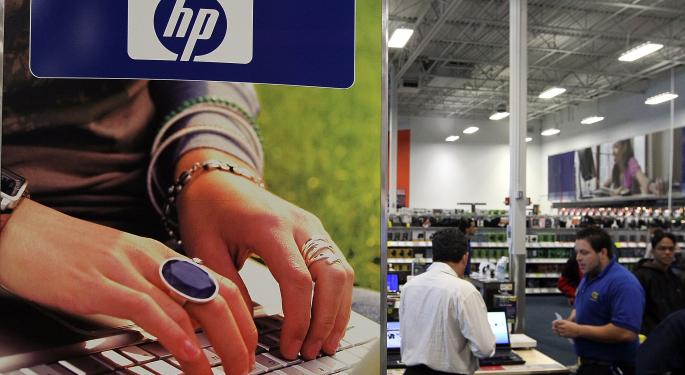 Hewlett-Packard Company (NYSE: HPQ) confirmed Monday that the company will split into two separate entities.
The deal comes a few years after Hewlett-Packard ceased plans to spin off its PC business. Those plans appear to have been reignited earlier this year, and now the printing division is slated to come along for the ride.
"I see it increasing the pressure on IBM to think about splitting into a services company on the one side, and then kind of a software and very high-end hardware company on the other side," Argus Research analyst James Kelleher told Benzinga.
Kelleher thinks the pressure could increase for three reasons.
"Hewlett-Packard doing this suggests that the old model of a one-stop shop in technology is outdated," he said. "Second, IBM has been kind of underperforming, and that makes people antsy."
Lastly, Kelleher pointed to the rise of activist investors who are "playing more and more house money" and are able to take big positions in IBM (NYSE: IBM) and Hewlett-Packard.
"[This] makes me think that somebody's gonna really step up and tell IBM to split up," Kelleher added.
Related Link: Yahoo! Inc.-AOL, Inc. Merger Push Suggests Marissa Mayer's Turnaround 'Isn't Going Well'
Days Of Future Past
If investors want to know what to expect from the Hewlett-Packard split, they might want to look at the company's previous spin-outs.
"[Avago] came out of Hewlett-Packard," Sean Udall, CIO of Quantum Trading Strategies and author of The TechStrat Report, told Benzinga. "Verigy, that came out of HP. The bottom line is, HP has a pretty good history. When they do a spin-out, it generally creates a fair amount of value."
Agilent Technologies Inc. (NYSE: A) also came from Hewlett-Packard.
"When HP did their last big spin-out and they kind of separated the company into the current HP as it stands and Agilent, pretty much everything that went to the Agilent side was fantastic," he said. "That's where Avago was. That's where Verigy was."
More Companies, More Problems
Global Equities Research analyst Trip Chowdhry doubts that Hewlett-Packard will succeed as two separate firms.
"Management can split it up any number of times, but that won't help them fix the fundamental problems," Chowdhry told Benzinga. "[Their] agendas are not in line with the corporate agendas. If you split it into two, you will have the same problems!"
"To me, [the split-up] is a non-event," Chowdhry added.
What Does The Split Mean For 3D Printers?
Udall and Chowdhry have different expectations for Hewlett-Packard's 3D printer business.
"My guess is, the computing and printing division will probably have the 3D division," said Udall. "So right now, the division I think people suspect will be kind of the dog of this deal might end up being really good if HP becomes a strong player in 3D printing."
Related Link: Experts, Investors Applaud eBay Inc-PayPal Split
Chowdhry, on the other hand, thinks that 3D printing is merely a concept within Hewlett-Packard. If it comes to fruition, he expects the company to develop 3D printers for large enterprises.
"But I don't think they will be successful in that," said Chowdhry. "[You] can't come up with any products if your personal agenda takes precedent over your corporate agenda."
Another Firm About To Split
Udall has high hopes for the Agilent split that was announced last year.
"That is a stock I've been eyeballing lately," he said. "They kind of have a science and technology company with a medical technology company. A lot of people think the medical technology division is very undervalued. Once they split the two companies, you'll see a lot of value come out of Agilent."
Disclosure: At the time of this writing, Louis Bedigian had no position in the equities mentioned in this report.
View Comments and Join the Discussion!
Posted-In: 3D Printing avago comments IBM James KelleherAnalyst Color Top Stories Tech Best of Benzinga