Will Wal-Mart Stores, Inc. Really Give Banks A Run For Their Money?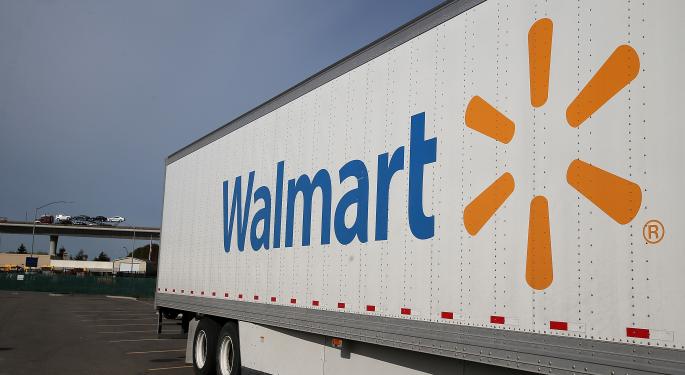 Wal-Mart Stores, Inc.'s (NYSE: WMT) plan to partner with prepaid-card company Green Dot Corporation (NYSE: GDOT) to offer checking accounts to unbanked Wal-Mart customers is the retail giant's latest effort to enter the financial sector.
Wal-Mart's previous attempts had U.S. banks seeking to block the company's efforts. Are they similarly worried this time?
Past Resistance
As Bloomberg reported, past attempts by Wal-Mart to obtain a bank charter met stiff resistance from both established U.S. lenders and labor. The company abandoned those efforts in 2007.
The primary argument against Wal-Mart was that it was not subject to the same types of financial regulation as traditional financial institutions.
Because of this, banks said, Wal-Mart would have an unfair advantage and be able to do what Wal-Mart has always done best: undercut competitors' prices.
Related Link: Can Wal-Mart Stores, Inc. Compete With Other Health Care Clinics?
Contrarian Views
Nate Tobik, founder and CEO of CompleteBankData.com, told Benzinga that Wal-Mart's desire to offer no-fee checking to an underserved lower income segment, it shouldn't be a threat to traditional banks.
Tobik added this caveat. "The danger is if Walmart is successful with their initial products they'll expand and offer products that threaten banks core business."
Tobik continued, "Initially Walmart is looking to offer no-fee checking to lower income individuals with the hope of increasing store traffic. This customer segment is underserved, so at present this shouldn't be a threat to other banks. The danger is if Walmart is successful with their initial products they'll expand and offer products that threaten banks core business."
Marketfy Maven Tim Melvin told Benzinga he did not believe Wal-Mart's current plan would raise the ire of most bankers.
From Melvin's perspective, the reason was baked into Wal-Mart's target demographic.
"The unbanked market is unbanked for good reason," Melvin said. "Many of them cannot open accounts due to bad credit and unpaid fees from previous relationships. This is not a segment of the market that is likely to obtain home loans, credit cards or [be in] other lending markets."
Melvin even saw a potential upside for the traditional banking sector, based on Wal-Mart's entry into the sector.
"If they [Wal-Mart] are successful in helping the un-banked actually become account holders and use them to properly manage their finances," Melvin said, "this is probably a solid positive for the industry as a whole."
Data Collection
Looking at it from Wal-Mart's perspective, Melvin said he suspected the company would find the information gathered on their new banking customers -– i.e., income levels and spending habits -- would be "far more profitable for them than the actual banking relationships would be."
The notion of providing a service, even one that barely makes a profit, for the purpose of data collection is not new to the marketplace. One only has to look at Amazon.com, Inc.
Related Link: The Great Depression, Job Wanted and The Sunny Side
A Bigger Threat
As far as a challenge to traditional banking is concerned –- especially for smaller regional and community banks -- Melvin said he suspected Apple Inc.'s (NASDAQ: AAPL) iPay would turn out to be a much bigger problem.
To the extent iPay ended up driving customers, especially those with more favorable demographics, to larger banks that would be especially true, Melvin said.
At the time of this writing, Jim Probasco had no position in any mentioned securities.
Editor's note: Article was originally published on September 29, 2014 at 10:33 am ET and has since been updated with comments from Nate Tobik.
Posted-In: Amazon.com Apple Inc. comments green dot corporationAnalyst Color Topics Tech General Best of Benzinga
View Comments and Join the Discussion!