How Yahoo! Inc. Was Pounded In Wake Of Alibaba Group Holding Ltd Fever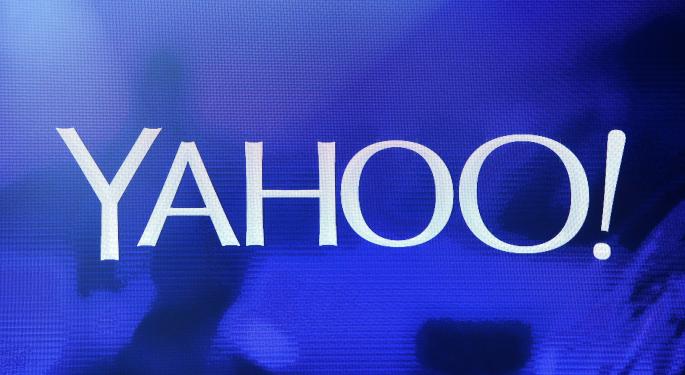 With the Alibaba Group Holding Ltd (NYSE: BABA) IPO in the rear view mirror, it's time to examine the recent price activity in Yahoo! Inc. (NASDAQ: YHOO) and its implications for the future.
Now that Yahoo has relinquished nearly all of its gains achieved during its pre-Alibaba IPO fever rally, investors that missed out on the recent run to $44.01 may be licking their chops to get in on the long side.
Reasons For The Decline
Has the issue set the stage for a rebound?
Until Tuesday, there were very few shares of Alibaba to short. Those becoming available are coming in at extremely high rates (25 percent), which makes shorting Alibaba an expensive proposition. Not only will a trader have to make a profitable trade, a trader might have to go above and beyond to cover the expenses embedded in the trade.
Related Link: What Experts Think About The Alibaba Group Holding Ltd IPO
Shorting Yahoo Only Way To Implement Alibaba Hedge
With no options available to trade until next week, investors that locked in to the issue had almost no way to protect their profits. One way, however, is if traders short Yahoo to implement a partial hedge, since 22 percent of Yahoo's value is embedded in its stake in Alibaba.
This was evidenced in the opening seconds of the Alibaba IPO, as the issue soared from its opening price ($92.70) to $99.70. Meanwhile, Yahoo went nowhere and once Alibaba peaked just under $100.00 and began to fall, so did shares of Yahoo.
With little or no shares available to short, the true arbitrage ratio between the two issues has yet to be determined. Once this is established, arbitrageurs may become more active in the issue, as large buyers and sellers in either issue could be quickly offset by the short-term scalpers of the predetermined ratio.
Murky Fundamentals
Alibaba is a Chinese Internet company that listed on a U.S. exchange in part for a dual-class share structure that enables founder Jack Ma and a small group of insiders to retain voting control.
Chris Nagy, founder and chief executive of KOR Group LLC, discussed this ploy on Benzinga's #PreMarket Prep. He explained that exchanges in China, Hong Kong and elsewhere prohibit the practice leaving Alibaba no other option.
"The U.S. is one of the few countries that permits a dual class structure for publicly traded companies," Nagy added. "It was popular in the 1960s, but it's starting to come back."
Risk Premium Inherent In Chinese Internet Companies
In the wake of recent Chinese Internet-related stock fiascos, shareholders of Alibaba may be tempted to take the money and run. If an investor takes a look at the charts of NQ Mobile Inc, Sina Corp, Youku Tudou Inc and Renren Inc, it's hard not get a queasy feeling. Non-Internet related Chinese company Molycorp Inc put the hurt to many U.S. investors when it skyrocketed to $79.12 in 2011 and now can be had for $1.20.
It should be noted other Chinese Internet-related companies such as Baidu Inc and Qihoo Tech 360 Tech Co. Ltd have rewarded investors with great returns over the last few years.
Analysts Abandon Yahoo
Two of the Street's respected firms have turned their back on Yahoo. Bank of America downgraded the issue from Buy to Neutral and removed its price target, while Bernstein downgraded the issue from Outperform to Market Perform, but raised the price target from $40.00 to $42.00.
With Bernstein, it's hard to determine whether it has already seen the top with its price target, as the issue traded at $44.01 last week. The firm could expect the issue to return to this level so clients can sell shares at that time.
Related Link: What Is The Deal With United States Steel Corporation?
What's Next?
In Tuesday's session, Yahoo! slipped under $38.00 and staged a solid rebound as high as $39.27; meanwhile, with the shorts out of the cage and early retail buyers of Alibaba bailing out, Alibaba shares reached $87.00 and are attempting to rebound.
If Yahoo! breaches Tuesday's low ($37.90), the chances of a rebound rally will be diminished and the rally will be categorized as a "dead cat bounce." Further supporting a stab on the long side is the fact that Yahoo has returned to almost the same level it was at before Alibaba fever came into play.
A thick large-cap stock like Yahoo will typically establish a few consecutive highs or lows within a tight area before it reverses. However, this was not the case with the island top at $44.01, although it did place a quadruple top the following four days ($42.96-$43.32) after reaching its highest level since October 2000 ($46.94).
Posted-In: Analyst Color Downgrades Technicals Movers & Shakers Top Stories Intraday Update Analyst Ratings Trading Ideas Best of Benzinga
View Comments and Join the Discussion!