The Apple Inc. Watch Versus Competitors: What Do Analysts Think?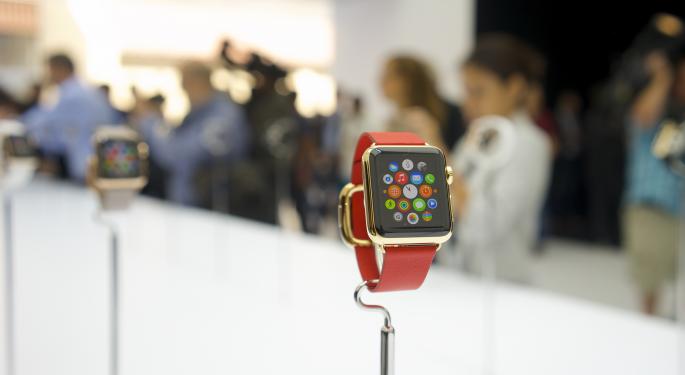 Apple Inc. (NASDAQ: AAPL) and Motorola are slated to join the smartwatch space, but Samsung (OTC: SSNLF) has been there for more than a year. Do the newcomers have what it takes to compete?
"It's the first iteration of a new product category," BTIG analyst Walter Piecyk told Benzinga, referring to the Apple Watch.
"Our expectations (from a revenue standpoint) are somewhat limited as far as next year. There [are] other features and services that the company theoretically could weave into future iterations… that could help with earnings growth beyond 2015."
Related Link: Apple Inc.'s Record-Breaking iPhone 6 Sales The Result Of 'Pent-Up Demand'
Something To Talk About
"I think [the Apple Watch is] a big deal," Sean Udall, CIO of Quantum Trading Strategies and author of The TechStrat Report, told Benzinga. "A lot of people are going to talk about the watch. Some people will love it. Some people will hate it."
Udall was skeptical about Apple's smartwatch (which was rumored to be called the iWatch) until it was officially unveiled.
"I would say the watch was a lot better than I thought it was going to be," said Udall, adding that he previously could not find a smartwatch that he would wear. "The difference is, this watch looks good! The styling looks good. There's a ton of band choices. I'm actually really impressed with the look of the watch."
Related Link: 3 Competitor Reactions To Apple Inc.'s iPhone 6
Slight Disappointments
FBN Securities analyst Shebly Seyrafi told Benzinga about a couple of things that could prevent the Apple Watch from surpassing its competition.
"I think the price was a little higher than people were expecting, and it's not going to be available this year," said Seyrafi. "That was a slight disappointment. And the fact that it only works with the iPhone -- [it's] not standalone, sort of like the Samsung [Galaxy] Gear -- those were the negatives."
On the upside, Seyrafi said the watch's health aspects "were showcased to be quite impressive" at Apple's event this month. "So it's a pretty good product," he concluded.
Blown Away
Patrick Moorhead, President and Principal Analyst at Moor Insights & Strategy, thinks the Moto 360 is a good-looking device. "It's a good step [forward]," Moorhead told Benzinga.
Samsung unveiled its latest smartwatch, the Galaxy Gear S, just days before Apple introduced its first smartwatch. After seeing the latter, Moorhead was convinced that Apple had gained the upper hand. "I think the experience blows them all away," said Moorhead, referring to Apple Watch's competitive advantage.
"But we don't know pricing for all of them and that's going to be key. It does start at a reasonable price. That, more than likely, is going to be for the Sport version," he said.
Moorhead added that he personally didn't care about the price. He is more concerned about the user interface. "Somebody had to nail the experience," Moorhead remarked. "I think Apple is very close to doing that. They made it stylish."
Apple also removed something that Moorhead referred to as the 'annoyance factor.' "Everybody doesn't know that you have a notification, only you do," he said. "They haven't removed the battery life challenge, but they made charging really easy with the inductive charger. They made it readable in sunlight, which up to this point no color screen was readable in direct sunlight."
Disclosure: At the time of this writing, Louis Bedigian had no position in the equities mentioned in this report.
Posted-In: Patrick Moorhead Sean Udall Shebly Seyrafi Walter PiecykAnalyst Color Analyst Ratings Best of Benzinga
View Comments and Join the Discussion!