4 Kraft Divisions Ripe For Spinoff (And Some Possible Suitors)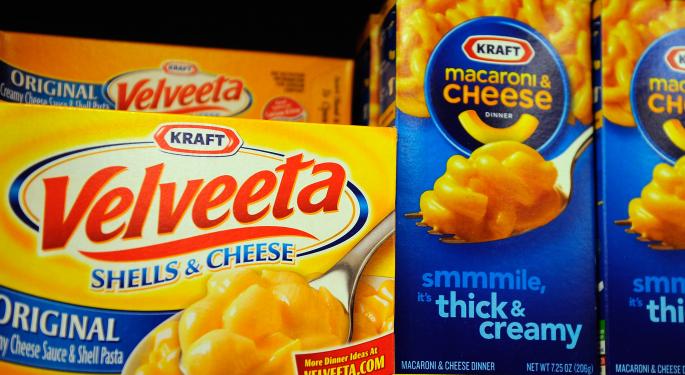 BMO Capital analyst Kenneth Zaslow published a note last week suggesting Kraft (NYSE: KRFT) should consider spinning off some segments in order to unlock value.
Among Zaslow's reasons, the number of "natural buyers" standing ready to acquire specific segments of Kraft's food stable. He felt Kraft could realize $30 billion from businesses representing just $2.1 billion of EBITDA.
Divisions ripe for spinoff included cheese, refrigerated meats, coffee and Planters.
Related Link: Keurig's Kraft Deal Seen 'Modestly' Boosting EPS, Sales
Cheese
Canadian dairy company, Saputo was named by Zaslow as one company that might be interested in acquiring Kraft's cheese business.
According to Zaslow, Saputo President Lino Saputo said recently, "When I think about medium and large (acquisitions), they could be perhaps new platforms in new countries."
Admitting Saputo might be reluctant to take on an acquisition of that size, he said BMO estimated such a deal would be "accretive to earnings and create material long-term growth opportunities."
Noting that dairy companies have been battling global conditions and each other for growth, resulting in the need for mergers and acquisitions in the space, Dairy Herd Management said Saputo was now in eighth place on the Rabobank survey of the "Top 20" global dairy companies. Much of Saputo's recent success has come from acquisitions.
Refrigerated Meats
CNBC's Jim Cramer in June spoke about Kraft's "hidden value" as a company that is accustomed to spinning off segments. Cramer said he thought the loser of the Hillshire Farms (NYSE: HSH) bidding war, which turned out to be Pilgrim's Pride (NASDAQ: PPC), "would love Oscar Meyer."
Zaslow echoed Cramer in his note saying, "JBS/PPC, in our view, maintains a compelling interest in KRFT's Refrigerated Meats business given its interest in gaining greater retail presence, reducing the volatility of its underlying businesses, and generating supply chain efficiencies."
Coffee
When Mondelez (NASDAQ: MDLZ) and D.E Master Blenders said in May they would combine their respective coffee businesses to form Jacobs Douwe Egberts, speculation about potential acquisitions by the proposed new coffee giant began.
It was no surprise then that Zaslow said, "Jacobs Douwe Egberts or Joh A Benckiser, in our view, would make the most strategic and financial acquirer of KRFT's coffee business."
Planters
As far back as 2011, Credit Suisse suggested Kraft might be interested in spinning off its Planters division, perhaps selling it to ConAgra (NYSE: CAG).
Zaslow sees a different suitor mix, suggesting Mondelez, Hershey (NYSE: HSY) or Pepsico (NYSE: PEP). According to Zaslow, Kraft could sell to any of them for a premium price.
Related Link: UPDATE: Deutsche Bank Downgrades Kraft Foods
The Whole Enchilada
One option also hinted at would be the acquisition of all of Kraft Foods Group by Berkshire Hathaway's (NYSE: BRK-A) Warren Buffett.
Buffett's assertion on May 3 that he would welcome another large deal with 3G Capital similar to the acquisition of H.J. Heinz last year, gave rise to speculation about what the next big deal would actually be.
Bloomberg included Kraft in a group that might appeal to Buffett based on criteria he looks for. The criteria include "simple" business models that Buffett understands and "good" returns on equity with consistent earnings.
All this led Nudge Capital's Mark Bronzo to say, "Kraft actually makes a lot of sense to me because it's like a Heinz. It pays a big dividend, it's a generator of cash, and now it has become a domestically focused company."
At the time of this writing, Jim Probasco had no position in any mentioned securities.
View Comments and Join the Discussion!
Posted-In: Berkshire Hathaway Bloomberg BMO Capital CNBC CNBCAnalyst Color Economics Media Best of Benzinga