Disney Vs. Amazon: Who Will Win?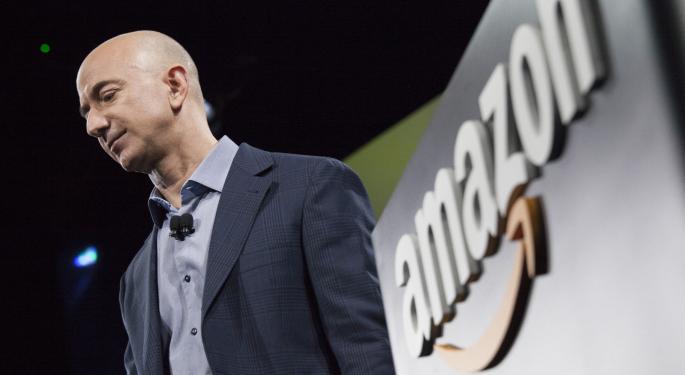 Disney (NYSE: DIS) is currently embroiled in a pricing, promotion and product placement battle with Amazon (NASDAQ: AMZN).
The two companies can't seem to agree on any of those issues. Consequently, Amazon is preventing consumers from pre-ordering Disney's movies on DVD or Blu-ray. Two of those films -- Maleficent and Captain America: The Winter Soldier -- earned more than $200 million each from domestic theaters. It is not yet known if Amazon will impede the sale of additional items.
Whatever happens, Needham analyst Kerry Rice does not expect a quick resolution.
"I think it could last quite a while," Rice told Benzinga. He does not believe that the battle will hurt Disney or Amazon in any meaningful way.
Related Link: 5 Hot Amazon Deals Going On Right Now
Too Big To Fail?
Many critics feel that Amazon, the world's largest online retailer, has the advantage in this dispute. The Wrap's Todd Cunningham and Jordan Zakarin don't disagree, but they think Amazon might have picked the wrong studio to bully.
Global Equities Research analyst Trip Chowdhry thinks that this battle has more to do with Amazon's overall success than anything else.
"Amazon has and wants to make sure that they provide [goods and] services at what the market will clear," Chowdhry told Benzinga. "They are so big, and it is so well-known [that it is] the de facto choice for people to buy anything is online…because their market presence is so strong."
Disney is not technically a retail competitor, but the company operates its own chain of stores. Chowdhry said that those outlets will be consumers' second choice for movie purchases, while Amazon will continue to be the first.
"The beauty of Amazon is they don't let themselves be cornered by any vendor," Chowdhry added. "It's a company that investors can put a bet on because it is run by an entrepreneur and not by an administrator. That entrepreneur, Jeff Bezos, is very passionate. If somebody has to look, say, four years, five years out, which is a stronger bet? Amazon or some other company? I think it is Amazon.com."
Disclosure: At the time of this writing, Louis Bedigian had no position in the equities mentioned in this report.
Posted-In: Amazon Captain America: The Winter Soldier comments disney Global Equities Research Jeff BezosAnalyst Color Tech Best of Benzinga
View Comments and Join the Discussion!