Can New Hardware Save GameStop?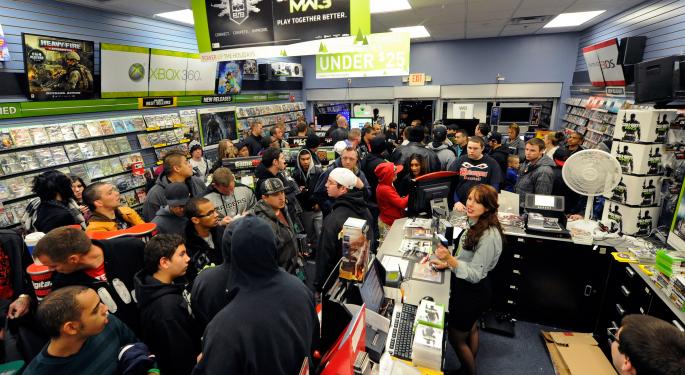 Benchmark analyst Michael Hickey recently predicted that digital downloads could replace physical game discs within the next five years.
That may be good news for publishers that want to sell directly to consumers, but it could be the beginning of the end for GameStop (NYSE: GME). Could new hardware change that, or at the very least extend the retailer's life?
"People definitely have to go to stores to buy hardware unless you buy through Amazon or an online retailer," Hickey told Benzinga. "Is new hardware coming in … sooner rather than later good for GameStop? Yeah, for sure. Once the console is in the home, however, there's an increasingly vibrant ecosystem of software that's available for digital download."
PlayStation 4 and Xbox One are barely a year old, but the 20-month-old Wii U could be replaced in 2018. This would bring new hardware to GameStop outlets a full year before the anticipated online transition is complete.
Related Link: 3 Reasons Video Game Sales Will Decline In 2019
Changing Trends, One Game At A Time
From the start, it has been abundantly clear that physical games won't go away as quickly as CDs and DVDs. Video game files are bigger (the latest Killzone requires 40GB of hard drive space), they aren't easy to stream and console storage is very limited. Both PlayStation 4 and Xbox One shipped with 500GB hard drives, but a good portion of that space was reserved for the OS and software updates.
Nonetheless, Sony (NYSE: SNE) would prefer that consumers switch to downloads. To speed up this transition, the company will pre-load select PS4 games after they are pre-ordered and allow consumers to play them immediately when they are released.
"If you don't intend to re-sell it, and you don't need to take it to your friend's house, and you don't want to give it away when you're done with it, a digital copy is fine," Wedbush analyst Michael Pachter told Benzinga. "It's sort of like saying, do you care about renting a DVD or watching a VOD? For the same price you would probably do VOD. You only do DVD because it's cheaper. The physical copy of the game has been cheaper because people know that they have some resell value, so there's some perceived cost to taking a digital copy."
No Value?
Hickey told Benzinga that he does not see "any value whatsoever in having a physical copy in your hand."
"I think that sort of idea is antiquated," he added. "It's like saying that kids today care about having a CD or DVD in their hand. They don't care one way or another."
Hickey said that when Microsoft (NASDAQ: MSFT) tried to force its online initiative with Xbox One, there weren't enough consumers who were willing to accept that direction.
"That's somewhat different from where we're gonna be in five years," Hickey said. "Even though people griped about it and forced Microsoft to change, ultimately you're seeing that people are going more toward digital.
"Yeah, there's trade value of physical copies. There's some currency value to that. If I can pre-order my game through PS4 and pre-load it and have it available the second that street date hits, to me, as a consumer, that's a convenience that I would desire, and that's worth something, too."
Disclosure: At the time of this writing, Louis Bedigian had no position in the equities mentioned in this report.
Posted-In: Benchmark comments gamestop Michael Hickey Michael Pachter MicrosoftAnalyst Color Tech Best of Benzinga
View Comments and Join the Discussion!