Apple's iTime Patent: Proof That The iWatch Is Coming Soon?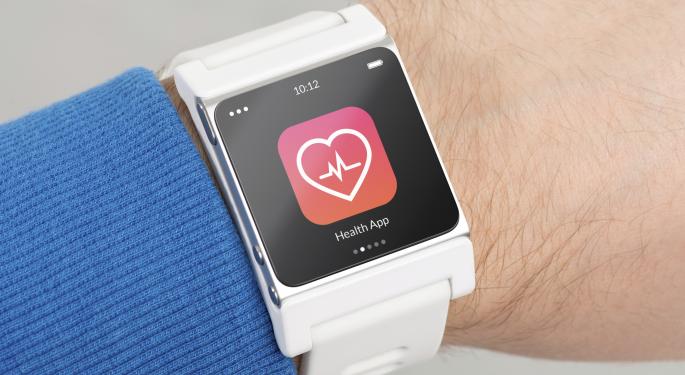 Apple (NASDAQ: AAPL) was granted an exciting patent this week, but is it really proof that an iWatch is coming in 2014?
With each new development in the iWatch rumor mill, consumers and investors believe that an Apple smartwatch is finally coming. Pacific Crest Securities analyst Andy Hargreaves is not sure that's the case.
"I think [the iTime patent] indicates that they file tons of patents and get some of them awarded," Hargreaves told Benzinga.
Related Link: What if Apple's iWatch is Really a TV?
The Patent
According to AppleInsider, the Mac maker filed a patent for an elaborate smartwatch (referred to as iTime) in 2011. The device could feature unique gesture control elements and proximity sensors to alert the user when a related device, such as an iPhone, is out of range. It may also contain a removable media player, which would allow consumers to use the device separately or with other wearable attachments (such as an arm band). In that respect, the device could be compared to an iPod Nano.
If the patent is any indication, iTime will also include the standard crop of smartwatch features, such as phone, text and social network notifications.
Big Hype
Apple's patents (whether newly filed or fully granted) tend to get a lot of hype from the media, and this one is no different.
The New York Post referred to the iTime patent as the "first look" at Apple's smartwatch.
BGR took another position, asking, "Is the 'iTime' Apple's second smartwatch?" This is, after all, the second known patent that Apple has filed regarding a possible smartwatch design.
It is not yet known if this will be the first or second watch that Apple releases. Whatever the outcome, one thing is for certain: iTime is the talk of the town.
All For Nothing?
Indeed, patents are an important part of every tech company -- even patents the company never intends to use. This is especially true for Apple, which has been embroiled in a large number of global patent disputes.
As far as the name is concerned, Hargreaves isn't sure that Apple will sell a device with the iTime moniker.
"I don't know," he said. "I don't think iTime sounds very good, but who knows?"
Disclosure: At the time of this writing, Louis Bedigian had no position in the equities mentioned in this report.
Posted-In: Andy Hargreaves Apple AppleInsider comments iTimeAnalyst Color Rumors Tech Best of Benzinga
View Comments and Join the Discussion!