Apple TV Vs. Android TV Vs. Fire TV Vs. PlayStation TV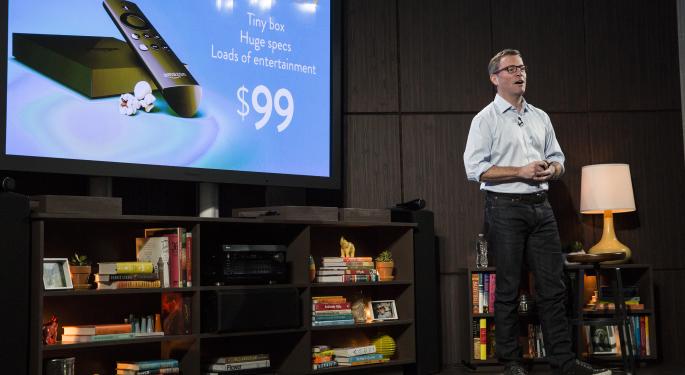 Who will win the battle for streaming TV domination?
In a broader sense, the trophy has already gone to Sony (NYSE: SNE) and Microsoft (NASDAQ: MSFT). Both companies sold more than 80 million units of their last game consoles, which also function as media streaming devices.
However, when game consoles are excluded from the list, Apple (NASDAQ: AAPL) is the current winner at retail. Apple has sold 20 million Apple TV units as of April 2014, easily beating its nearest competitor.
The New Big 3?
Up until 2013, Apple's competition was limited to Roku, Google TV and a smattering of disappointments. Google (NASDAQ: GOOG) (NASDAQ: GOOGL) changed that last year when the company launched the first-generation Chromecast, a $35 HDMI stick that could be used to stream video on any high-def TV.
Google didn't stop there. The company officially unveiled its Android TV platform this week, which promises to deliver a world of content and games.
Related Link: Xbox One Price Cut Will "Split The Market" Between Microsoft And Sony
Amazon (NASDAQ: AMZN) entered the fray with its first set-top box, Fire TV.
Not content to rest on the laurels of PlayStation 4 and PlayStation 3, Sony launched PS Vita TV in Japan and will soon bring the device to America as PlayStation TV.
Do any of these devices/platforms have what it takes to compete against Apple TV? Read on to find out.
The Current Powerhouse: Apple TV
Apple sold somewhere around 10 million Apple TV units during the 2013 calendar year, according to Apple Insider. That's an impressively high number for a device that hasn't been upgraded since 2012 (minor revisions excluded).
Apple continues to improve the content lineup with new video apps every quarter. The company is also rumored to be bringing apps, games and other features to the next Apple TV.
Even without those additions, consumers seem to be very excited by what Apple TV can offer. It may not be an all-in-one device like Xbox One, but it seems to offer enough video content to satisfy the device's target market.
Android TV
Right now, Android TV isn't much more than a platform that will eventually come to TVs, set-top boxes and possibly other devices. But if consumers buy an integrated television, will they lose interest in other set-top boxes?
Steffen Sorrell, a research analyst at Juniper Research, thinks that the platform's primary advantage is that Android's installed base is greater than other operating systems.
"It may have a chance in that direction, I think," Sorrell told Benzinga. "Plus, Google already works with Samsung, which is obviously a big distributor of TVs, so we can expect Android's TV solutions to come onto those devices."
It should be noted that Google TV, the company's previous entertainment platform, was heavily supported by a few prominent TV manufacturers. That platform failed at retail and eventually paved the way for Chromecast.
Things could be different this time around, but Sorrell said that he "didn't see anything particularly special" with Android TV.
Related Link: The One Thing Google's Smartwatch Needs To Succeed
"It's nice that they're integrating voice command," he said. "You can use your phone to control the TV and to search. I thought that was a good use of integration between phone and TV. But smart TV manufacturers have been reluctant to diverge from their own kind of solution, so we'll have to wait and see how it goes with regard to adoption of the actual platform."
Fire TV
Fire TV looked good on paper. The $99 device is very similar to Apple TV but includes a few differentiating features: app/game support, voice search and a more powerful processor.
Amazon quickly announced that the device had sold out in April, but no specific sales figures were provided.
Despite the (apparent) success, many analysts ignored the device when it was first unveiled.
Wedbush analyst Michael Pachter told Benzinga that he was "completely unimpressed" by Fire TV.
"It's a faster Roku box for the same price," he said. "Not enough 'must have' features to justify a switch, [and] the game content is a nonevent."
More than 6,000 customers have posted reviews on Amazon.com. The majority of those reviews (3,000+) are positive, but more than 500 customers gave it one star (out of five).
Related Link: Amazon's Fire Phone Unlikely To Persuade iPhone Loyalists
Upon inspection, it appears that the complaints involve skipping (which may cause the device to stop working properly until the user exits a program) and Prime Instant Video listings. Prime videos are lumped together with those that users must pay to watch.
Amazon could fix these issues with a software update. For now, the company will likely continue promoting Fire TV with its quirky Gary Busey commercial.
PlayStation TV
Sony's set-top box is a clever way to get consumers to use PlayStation Now, the company's upcoming streaming game service. It plays PS Vita games as well, so it could also bolster the popularity of Sony's latest handheld.
Unfortunately, Sony couldn't find a way to bring PS Vita's unique features (one touch screen, one underside touch pad, two cameras and a built-in compass) to PlayStation TV. Consequently, there are several prominent PS Vita games that consumers won't be able to play with the device.
In its review, Engadget said that it couldn't recommend PlayStation TV as a media-streaming device. The Verge said that it is best at playing older video games.
Thus, this may not be the device that threatens Apple's dominance. But at $99, it will be the cheapest way for consumers to access PlayStation Now. That could prove to be a huge selling point if the service lives up to the hype.
Disclosure: At the time of this writing, Louis Bedigian had no position in the equities mentioned in this report.
View Comments and Join the Discussion!
Posted-In: Android TV Apple Apple TV comments Fire TV MicrosoftAnalyst Color Tech Best of Benzinga