Amazon Could Lose Money On Fire Phone Sales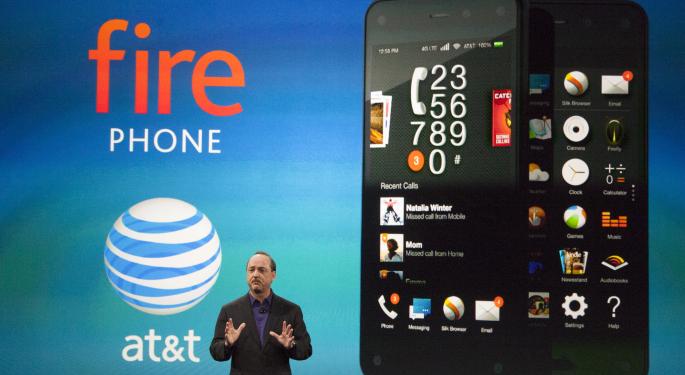 Amazon's (NASDAQ: AMZN) latest device is an ambitious, high-end smartphone that contains a plethora of new features -- including six cameras.
But those bells-and-whistles features won't come cheap. Customers will pay $199 for the 32GB version. They will also be required to sign a two-year service plan with AT&T, or pay $649 to buy the Fire Phone without a contract.
"I think Amazon is focusing a lot on the transition to their software, and they'll probably take a profit loss on the hardware," IBISWorld industry research analyst Sarah Kahn told Benzinga.
Apple charges the same price for its 16GB iPhone 5S, which carries a BOM (bill of materials) and manufacturing cost of $199. At best, this means Apple could make $449 per unit before other expenses (distribution, marketing, etc.) are factored in.
Related: Amazon's Fire Phone Needs Stellar Apps To Beat Apple's iPhone 6
Samsung paid roughly $50 more per unit to produce its latest flagship phone, the Galaxy S5. Amazon could spend even more -- a lot more -- building each Fire Phone.
According to The Wall Street Journal, Apple spent $11.96 on the camera featured inside of the iPhone 5S. The report did not differentiate between components (the iPhone 5S has two cameras), so it is possible both the front and rear cameras were purchased together. But Apple may also spend that much on each camera, raising the total to roughly $24.
Amazon's handset features a total of six cameras (five in the front and one on the back) -- the most of any smartphone. Four of those cameras contain an infrared light to improve image recognition and image quality in low-light situations. If Amazon has to pay a similar amount ($12 for two or $12 each) for its cameras, the company will spend $36 to $72 on these components alone.
These expenses do not guarantee that Amazon will lose money on the Fire Phone. But it wouldn't be the first time the company lost money selling a new device. Three years ago, Amazon was thought to have lost money on every Kindle Fire it sold.
Disclosure: At the time of this writing, Louis Bedigian had no position in the equities mentioned in this report.
View Comments and Join the Discussion!
Posted-In: Amazon Apple comments Fire PhoneAnalyst Color News Analyst Ratings Tech Best of Benzinga