Xbox One Price Cut Will 'Split The Market' Between Microsoft And Sony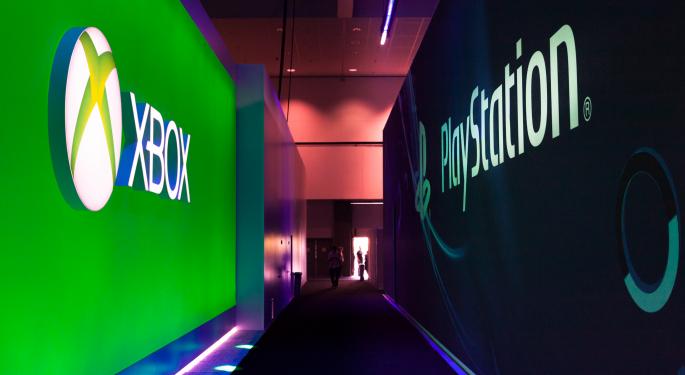 Microsoft's (NASDAQ: MSFT) unofficial price cut could allow the company to compete more effectively against Sony's PlayStation 4.
On June 9, 2014, Microsoft will begin selling its latest game console, Xbox One, without Kinect. Originally developed to compete with the motion-based controllers invented by Nintendo and popularized with the Wii game console, Kinect was the world's first controller-free, motion-based gaming device. Microsoft developed Kinect using technology from PrimeSense, a company that was eventually acquired by Apple.
Microsoft developed an enhanced version of Kinect to release alongside the Xbox One. But instead of selling it separately, the Windows maker wanted to make sure that every customer would experience the new device. Consequently, Xbox One carried a $499 price tag -- $100 more than PlayStation 4.
Related: Were Massive Xbox One 'Titanfall' Sales To Blame For Xbox 360 Game Delay?
This was a role reversal for Sony and Microsoft. During the previous generation, Sony released two PlayStation 3 iterations at $499 and $599 each. Microsoft's last console, Xbox 360, sold for $299 and $399 at launch.
Both Xbox One and PlayStation 4 shipped to stores last November. Sony has since dominated the industry with sales of more than seven million units. Xbox One has sold a respectable five million units, but Wii U (which was released in November 2012) is still in second place with sales of 6.17 million units. By removing Kinect as a required pack-in, Microsoft is able to reduce the price of its new console by $100 in the United States. Thus, Xbox One will soon retail for the same price as PlayStation 4.
Xbox One will drop from £429 to £349 in the United Kingdom and from €499 to €399 throughout the rest of Europe.
"The lower price should mean that XB1 and PS4 split the market going forward, and overall, the market probably grows by 10 percent or more from current run rates," Wedbush analyst Michael Pachter told Benzinga.
Kinect's Future
Consumers will buy new controllers for existing game consoles, but they rarely support other external devices.
Microsoft changed that when it released the original Kinect. As of February 2013, Microsoft had sold more than 24 million units.
That success does not seem to have carried over to Xbox One. But what will happen to the new version of Kinect now that consumers will no longer be forced to buy one?
"Kinect didn't have much developer support, so I don't think it makes a lot of difference," said Pachter.
Disclosure: At the time of this writing, Louis Bedigian had no position in the equities mentioned in this report.
View Comments and Join the Discussion!
Posted-In: Kinect Michael Pachter Microsoft PlayStation 4 SonyAnalyst Color News Tech Best of Benzinga