Goldman Sachs Visits With Tesla Management, Updates Each Business Category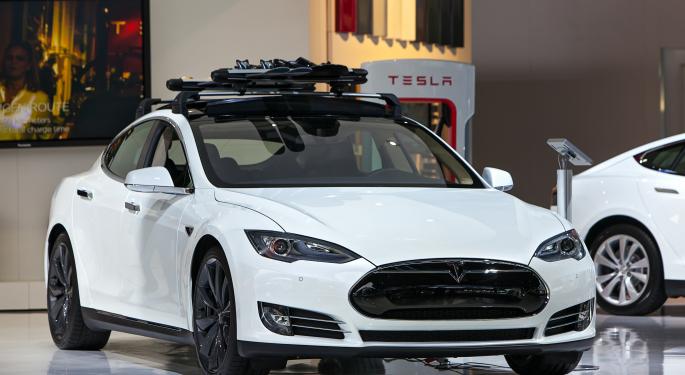 Analysts at Goldman Sachs met with Tesla Motors (NASDAQ: TSLA) executives in Chicago and Denver on April 8 and 9.
One key word the analysts used to describe their meeting was "surprised."
"The biggest surprise for us was the company's own expectations for the Model X," wrote Patrick Archambault in a note to clients on Thursday.
Archambault is referring to Tesla's new Model X SUV line which is expected to reach customers in the first quarter of this year. The SUV has seen a significant rise in reservations and its sales figure could rival those of the Model S, according to Tesla's management team.
Archambault noted that Tesla will ramp up its production of its Model S line in the second half of the year as Tesla's partnership with Panasonic to increase cell capacity gains traction. The Model S will also benefit from a second production line which it will share with the Model X.
Tesla's management has "categorically dismissed" various media reports that its partnership with Panasonic has gone sour and has changed. Archambault commented that Tesla's collaboration with Panasonic is "proceeding well."
Model S Sedan: Demand is key metric
Archambault noted that "Model S demand is the key upside and downside risk" over the medium term.
Archambault referenced Autodata and Wards estimates as well as California registrations to indicate that demand for Model S has "stabilized" after declining last quarter.
Not so, according to Tesla's management.
"Tesla rejected the idea that Model S demand in the United States was in decline, reiterating its view that very little has been done on the promotional front to spur sales growth,a s the company is focused on managing down waiting times globally and therefore would not have much more supply to sell in the U.S. at this time," Archambault wrote in his note.
Demand in Europe has been "coming in quite strongly" as Archambault estimates the company will report a delivery of around 2,500 vehicles when the company reports its first quarter results.
Demand in Norway, Netherlands and Denmark are strong, and Tesla is "fine tuning" its strategy in Germany.
#FanPhoto: A stunning sunset on Norway's northwest coast competes for attention with Model S. (Thanks Magnus!) pic.twitter.com/7hkwDWryzN

— Tesla Motors (@TeslaMotors) April 5, 2014
Tesla has projected it will deliver 6,400 Model S vehicles worldwide in the first quarter but cautioned investors the company will see an impact of "several millions" due to enhancements to the bottom of the car to improve the safety of the battery pack.
Chinese consumers are expected to begin accepting their Model S cars at some point in April. Archambault noted that there is a "strong backlog in orders" despite the company only having one store (so far) in Beijing.
Model X: Management is confident
Archambault explained that Tesla will have some deliverable Model X prototypes in the fourth quarter of the year despite previous guidance that the Model X will be launched in the Spring of next year.
There are currently 12,000 gross reservations which could only improve due to a industry wide rotation to SUV, Archambault argued.
Tesla's management has previously offered a longer-term guidance of delivering 40,000 Model S vehicles in a year. Given the fact that the company believes Model X sales will match those of Model S, the company will deliver 80,000 cars a year.
Gen III: Plans still on track for 2017
Archambault noted that Tesla's next vehicle will be an affordable all electric vehicle with a $35,000 base price tag with options and accessories pricing the car in the $45,000 to $50,000 range.
The Gen III vehicle will require a third production line, and according to Archambault Tesla's plans remain firm with deliveries starting in 2017.
Tesla is aiming for a gross margin of 25 percent on the Gen III as opposed to 30 percent for the whole company.
Gigafactory: Nothing new to update
As would be expected, Tesla's management had little new commentary to offer the Goldman Sachs team regarding its much anticipated and highly publicized gigafactory.
Texas, Arizona, New Mexico and Nevada are the four states that have been "shortlisted" with construction on track to begin by the end of 2014.
Tesla is eyeing potential sites that are already classified as industrial parks and as such receiving the necessary permits and environmental impact studies would be a lot easier.
"Tesla was very clear that terms are still very good with its key cell supplier Panasonic with the implication being (in our view) that they are still one of the key partners of the giga factory," Archambault wrote.
Another benefit of the gigafactory would be cheaper logistics, land, labor and electricity costs versus those in Panasonic's home base in Japan.
An exciting future
Tesla's management believes that it will need to build a new assembly plant and gigafactory within the next four years, either in Europe or Asia.
Bottom line, Tesla believes its key competitive advantage is the fact that it could remain ahead of its competitors in the electronic vehicle space by adopting new technology and innovation at a much faster pace.
Shares are Neutral rated with a $200 price target.
View Comments and Join the Discussion!
Posted-In: electric vehicles Gigafactory Goldman Sachs Patrick ArchambaultAnalyst Color News Management Tech Best of Benzinga