Standpoint Research's Ronnie Moas Just Made It Safer And Easier To Give Back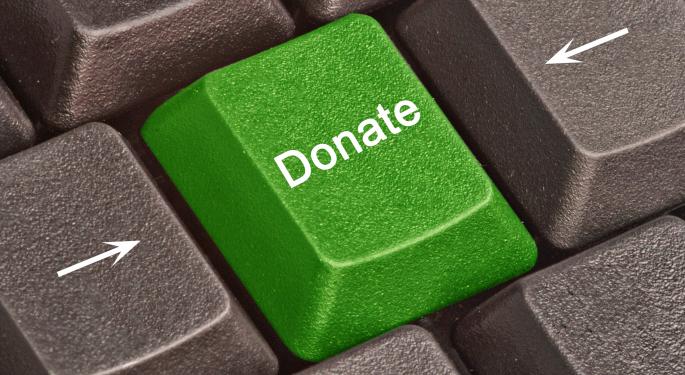 Ronnie Moas, the founder and Director of Research at Standpoint Research, has launched a new website to educate, raise awareness and encourage charitable giving and philanthropy.
Moas created the site, philanthropyandphilosophy.com, after having numerous conversations with individuals who are unwilling to give. Time and time again, they say it's because they don't believe that the money is actually going to those in need.
Moas recognized the challenge that individuals face in trying to make a donation. He believed that people had the right to question where their money was going -- after all, it could wind up in the pocket of a CEO making $500,000 a year.
"I did a lot of research," Moas told Benzinga. "And I chose 24 charities that scored the highest marks on different charity ratings websites."
Related: Standpoint's Ronnie Moas Explains Ethical, Emotional Downgrades
Those sites include the Better Business Bureau, Charity Navigator, GiveWell and CharityWatch.
"I only promoted these 24 charities that are the most efficient and best, well-run and highly regarded," said Moas. "Now people go to my website, philanthropyandphilosophy.com/, and they have 24 different charities to choose from, and they can give money to these organizations with peace of mind knowing that this is about as high a level degree of confidence that they can have that their money is actually going to helping people that are in need."
In essence, Moas is doing the work -- research and all -- for those who want to give back. His charities cover the "entire spectrum," ranging from education and cancer research to hunger and animal shelters.
"Whatever cause it is that strikes a nerve with you, that's close to your heart, I gave you a couple options here," said Moas. "And for every one of those 24 charities, there's going to be a three- to four-page report posted."
The Blacklist
Moas is famous for his original research on the world's largest publicly traded companies. He recently authored a 44-page report, Extreme Capitalism and the Race to the Bottom, explaining why he blacklisted Philip Morris (NYSE: PM), Apple (NASDAQ: AAPL), Amazon (NASDAQ: AMZN) and Yahoo (NASDAQ: YHOO) on ethical and moral grounds.
"We have thousands of stocks in the stock market," said Moas, referring to Apple. "Why would you want, as a consumer or an investor, to support a company that is not treating their employees properly?"
Moas stressed the fact that consumers have more power than they realize. They can inspire corporations to change just by adjusting their spending habits.
"You have more power when you go to the shopping mall than you have when you vote in an election," he said. "Your vote for Obama or Romney -- chances are your vote is not going to swing the election. But if we get one, two, three, four percent of the population to cut back on what they're spending on Amazon and Apple, those companies will change. They will not change…until they realize it is more costly not to change."
Investors can check out Moas' full report on the front page of both of his websites: philanthropyandphilosophy.com and standpointresearch.com.
Disclosure: At the time of this writing, Louis Bedigian had no position in the equities mentioned in this report.
Posted-In: Philanthropy and Philosophy Ronnie MoasAnalyst Color News Success Stories Analyst Ratings Tech Interview Best of Benzinga
View Comments and Join the Discussion!